Have your basketball shoes gone out of shape because of the tough gaming sessions? If yes, then you have landed at the perfect place. In today's article I will help you out in cleaning your basketball shoes the right way.
My basketball shoes were full of mud and I wanted them to be as clean as ever. However I never wanted to toss them off into a washing machine or place them away because after all I have spent hefty of bucks over them. So, I instantly thought about why not get them a bit VIP treatment and have them ready for the game.
After a lot of research I came across some of the best ways to clean basketball shoes that I will be sharing with you in this article. So, without further waiting let's get started!
What Is The Best Way To Clean Basketball Shoes?
For mild cleaning it is better to use a shoe cleaner, or soap water to scrub the dirt off your basketball shoes. Ultimately, it is up to the level of gunk to decide what method works the best for your basketball shoes.
I have found that most people who buy new basketball shoes don't clean them properly. They are usually dirty and don't get a proper cleaning before they wear them out. I have noticed that after wearing out a pair of basketball shoes, they are always really dirty and I can't seem to get any of the dirt off.
The best way for me to clean basketball shoes is by hand washing them with soap and water. If you have never cleaned your basketball shoes before, this article will give you some tips on how to properly clean basketball shoes.
How To Clean Basketball Shoes? 5-Step Guide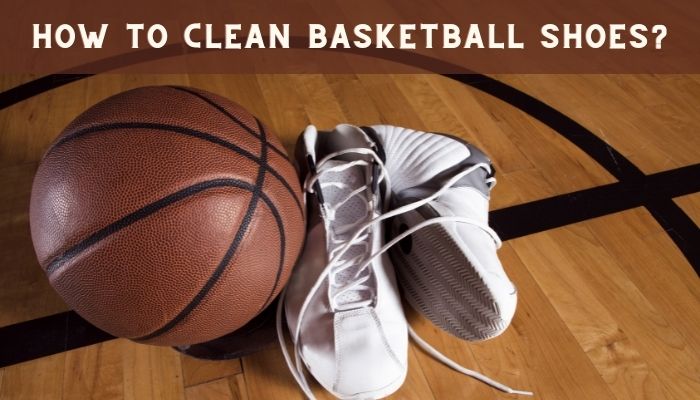 Here are some of the easiest and straightforward steps to clean your basketball shoes and make them appear brand new once again.
Step 1 – Rinse And Scrub
Scrub your shoes with a brush to get rid of the dirt. You can do this by using an old toothbrush. Brush from the bottom of the shoe to the top, moving in circular motions. This will help to remove the dirt and grime that's trapped inside the shoe.
Make sure you brush all the nooks and crannies. Brush is ideal for cleaning your basketball shoes as it has bristles that are longer than regular ones. They are also stiffer so they will be able to clean those tiny crevices and spaces that might otherwise remain untouchable.
To make your shoes look brand new, soak them in water for a few minutes. This will help to soften the dirt and grime that's stuck inside them. Then rinse them with warm water.
Step 2 – Apply A Mild Cleaning Solution
After rinsing your shoes, apply a mild cleaning solution on them. Make sure you use a mild soap or detergent that won't harm the material of the shoe. You can use a regular dish soap or even baby shampoo if you want.
This step is important because it helps to loosen and remove the dirt and grime that is stuck inside the shoe. The cleaning solution will also help to soften the dirt that's stuck inside it. After soaking your basketball shoes in a cleaning solution, take a brush and start brushing them.
You can either use a stiff brush like a toothbrush or a soft brush like a makeup brush. Choose the one that feels best for you. If you're using a soft brush, make sure you use a gentle pressure when brushing to avoid damaging the material of the shoe.
Once you've finished brushing your basketball shoes, use a microfiber towel to remove any remaining soil. You can use an old towel or even a clean one if you want. Make sure you don't use the same towel as you used for cleaning your shoe.
Step 3 – Clean Laces
After cleaning your basketball shoes, make sure you take out the laces. This will prevent them from getting dirty again and help to keep them in good condition. To clean your laces, first soak them in water for a few minutes. Then apply a mild cleaning solution on them. Finally, rinse the laces thoroughly.
Step 4 – Wash The Soles And Uppers
After washing the soles and uppers of the basketball shoes, wipe them dry with a soft cloth or towel. You can also use a spray bottle filled with water. Just make sure you clean the soles and uppers thoroughly before storing your basketball shoes.
Step 5 – Drying Process
After cleaning the basketball shoes, make sure you air-dry them. This is an essential step in keeping the basketball shoes in good condition. However, if you have some special needs, you can use a shoe-drying machine.
How To Have Your Basketball Shoes Last Longer?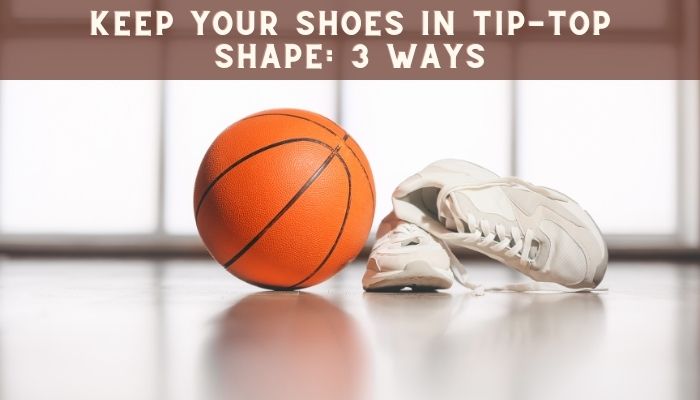 You Spend hefty of bucks over your basketball shoes so it is important to look after them in a proper manner so they would last longer.
Use Them For The Game Only
Basketball shoes are made for the game only and it is important to wear them only for the game. Do not wear them on road or wear them when you are going for any other activity. If you want to wear them on road then make sure that you use them on soft surfaces like sand, dust or mud. Wear them only when the surface is soft and damp.
Properly Store Them
If you are going to buy new shoes make sure that you keep them in a cool and dry place. Keep them in a box or a shoe bag. Make sure that you keep them away from direct sun light or any heat source.
Clean Them Regularly
Clean your basketball shoes after using them. It is very important to clean the soles of the shoe regularly so that you would not get any kind of bacteria or fungus on your shoes. Once you have cleaned your basketball shoes, it is important to maintain them properly. Make sure that you keep them in a dust free and dry place.
Can I Wash Basketball Shoes In A Washing Machine?
Most basketball shoes are made with a synthetic material that is resistant to washing in a machine, but some shoes may be made with a natural rubber or leather material that is sensitive to washing. In general, it is best to hand-wash basketball shoes in a basin of warm water with a mild detergent.
Why Is It Important To Keep Basketball Shoes Clean?
If you want to improve your footwork, then you need to make sure that your basketball shoes are clean. When you wear dirty shoes, you can feel the dirt on the bottom of your feet and on your toes.
You won't be able to move as easily as you should be able to if you have dirty basketball shoes on. You should make sure that you wipe off the dirt on your shoes after every game or practice so that you can get the best footwork possible.
Conclusion
Basketball shoes are one of the most important pieces of equipment that a player can have. They are used to help you move more easily and quickly on the court, and they need to be kept clean in order to do that.