Searching for the best indoor basketball can be pretty confusing if you don't have much experience with them, and even when you have a bit of experience on hand, it can get confusing considering a lot of options available in the market.
It is more difficult to find an indoor basketball that is well-built and at an affordable price, as indoor basketballs cost significantly more than outdoor ones.
Whether you are a beginner who is researching and trying to find the best options available for indoor basketballs or a full-fledged basketball player who is planning to change the brand, type, or add to their collection.
We have chosen the 7 best indoor basketballs available out there from brands like Wilson, Spalding, Molten, Rock and Baden that are most loved and trusted by basketball players around the world, so when you have to choose you are clear about which indoor basketball to prefer.
Factors to consider beforehand
Material
As with any other product, basketballs are made with different materials, mostly three: rubber, composite leather, and genuine leather.
Rubber basketballs
Rubber basketballs are very inexpensive and cheap and are also suitable for outdoor courts but they are hard to play with, since their grip and control while playing is not something a basketball player would enjoy during a game. Also, these basketballs can be slippery for sweaty hands.
If you're someone who is just buying a basketball to see if you like the sport or not and to test if this really is your thing then you might test using a rubber one, however, we would not recommend you buying a rubber basketball if you are actually planning on using it for the long run.
Basketballs made out of composite leather are more suitable for indoor basketball, these are soft, controllable and offer a good grip, and all in all, they provide a very pleasant experience while playing. Also, they don't take too long to break in, however, they do lack a bit when it comes to the aspect of durability.
Then comes genuine leather, these are the basketballs preferred by pro basketballers and are used in official NBA games. Leather basketballs are more comfortable, controllable, and provide an amazing experience during the sport. They can be a bit on the dear side but are quite durable.
However, leather basketballs take longer than composite ones to break in but once these are broken in they will be your best partner helping you to nail the game on both indoor and outdoor courts.
Grip
Another important factor to consider before making the purchase is the grip of the ball, as it is going to have a huge impact on the whole game. If the ball isn't good at grip it's going to keep slipping off your hands and affect your game negatively, basketballs with bad grip especially give a hard time to people with sweaty hands.
Grip mainly depends on the material that the basketball is made out of and its surface, generally composite leather and genuine leather basketballs grip well.
Size & Weight
The standard size and weight of a basketball for boys aged above 15 years and men is 7 which is 29.5" in circumference and should weigh around 580 to 620 grams.
For boys aged 12-14, girls aged 12+ and the standard size for women basketball leagues is 6 which is 28.5" in circumference and should have a weight of around 510 to 550 grams.
Apart from these standard sizes basketballs also come in other sizes like 5, 4 and 3 which are 27.5", 26.5" and 25.5" in circumference respectively.
Size 5 basketballs are considered standard for youth aged 9-12 with a weight of around 465 to 495 grams.
Size 4 is suitable for kids aged around 5-8 (weighs around 400 grams), whereas size 3 is called "mini basketball" which has a weight of more or less 280 grams, and is used by 4 years old kids up to 8 years old.
Bounce & Feel
A basketball needs to have a good responsive bounce to it and a comfortable feel for smooth gameplay that a player would enjoy, it should neither be too low that a player has to kneel down to fetch the ball nor too high. It should just have the balanced bounce which is consistent and responsive enough to facilitate a great performance.
Consistency in bounce is so important, can't put more weight on this, inconsistent bounce can affect a player's performance drastically because there will be no precise prediction of the level at the ball is going to bounce back each time.
Price
Price and budget is another factor to consider when buying a basketball since there are a lot of options priced on a wide spectrum starting from as low as 20$ up until 200$ depending on the quality and popularity of the ball.
Sometimes, you might find that some basketballs are overpriced considering what it has to offer, just as with any other product. It's good to do some digging online, beforehand.
Best Indoor Basketballs
Let's have a look at the 7 Best Indoor Basketballs we have picked for you to choose from:
A performer loved by all types of players, college basketball clubs, and even pros alike. It comes in 3 sizes, first one being 29.5" or 7, another size available is 28.5" or 6, lastly it comes in 27.5" or size 5 which is suitable for young players.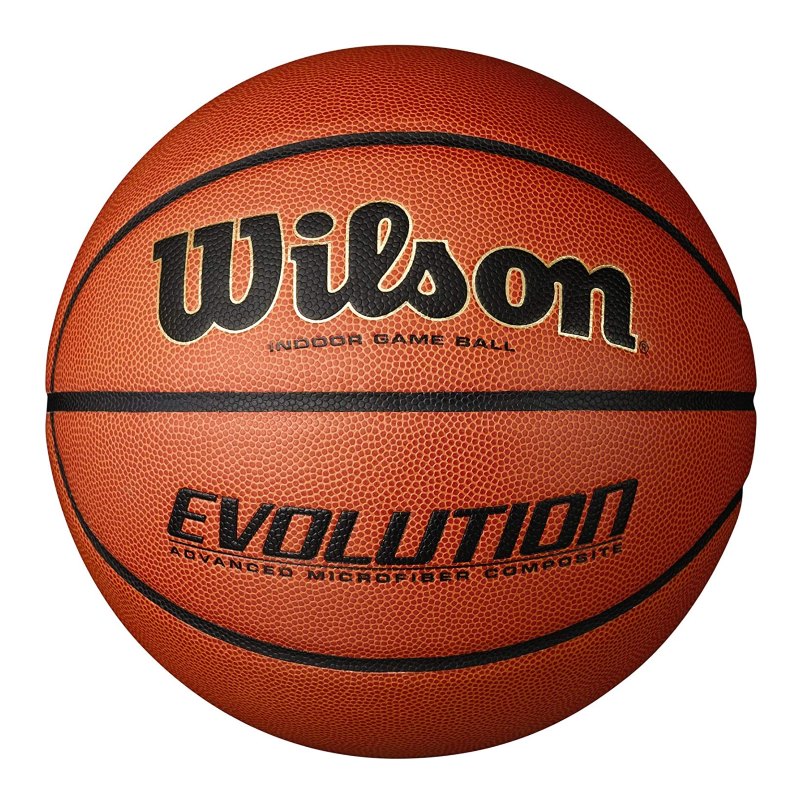 The smooth grip offered by this composite leather ball is what makes this ball a high-demand one out of all Wilson's basketballs.
It's quite soft in the hands as well and due to its Cushion Core Carcass technology, it is a great combination of soft feel and substantial grip for the game!
The outer cover of this basketball has got microfibers and hence this factor adds to its durability which also shows that it can be used for outdoor. However, it might not last that long if used outdoor.
Most of the users reported this to work perfectly fine with indoor courts even after using it for a year, so that indicates it is quite durable.
It comes with a price tag of less than 65$, which considering its quality, performance, and durability makes it a bang for the buck. It is also approved by NFHS, National Federation of State High School Associations, which is why it is preferred in high school tournaments.
Also, this comes ready-to-play so you don't have to worry about the air pump or anything, you can just order it and get basketballing right away.
When it comes to Molten you have to rest assured that the quality is going to be great, the reason why this brand is so loved by its customers worldwide. Molten BG3800 is an upgraded version of their previous basketball named GM7X which was considered as one of the best composite basketballs available.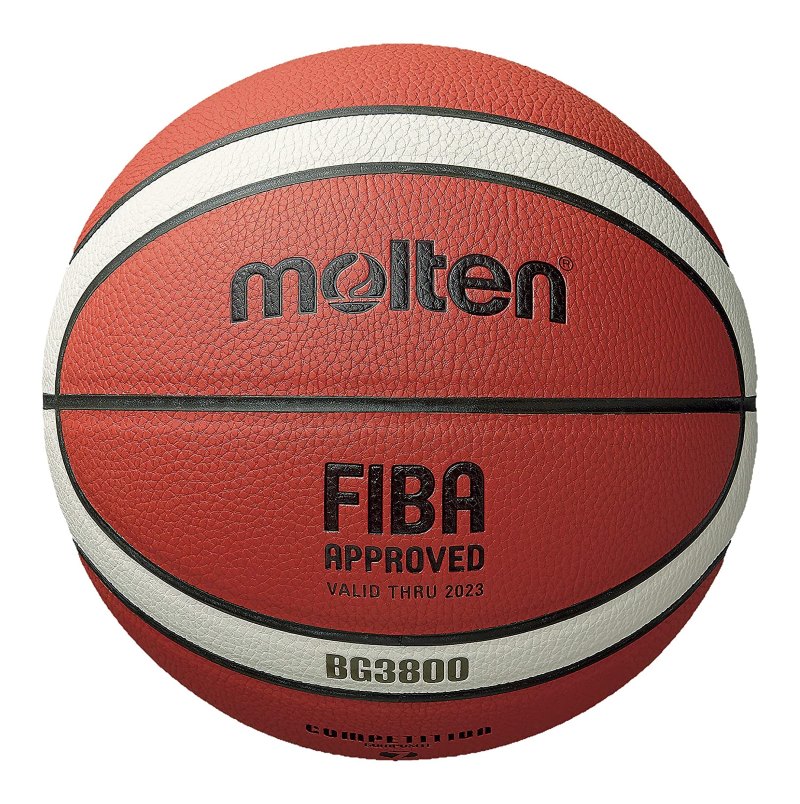 With its design, technology, and materials, it proved to be a great basketball. It has received many positive reviews internationally and is preferred by the players since it provides a smooth gameplay and defined, better ball control.
The same technology used in Molten X-series is used here, which makes rotation more smooth, predictable and consistent.
Its pebbled surface helps with the grip, 12 paneled design and tan colored stripe on this ball make the players get to know clearly the rotations of the ball so they can adjust their technique according to it since they will be able to predict the movement of the ball. Molten BG3800 basketball is an indoor one, hence it can survive well on indoor courts.
However, even though some reviews said it worked well outdoor as well, we won't recommend using it outdoor, since it can expose the ball to quick wear and tear and affect its durability. It's bounce is quite consistent and responsive and it feels lightweight.
It is available with the price tag of around 60$, which makes it worth buying considering its design, performance, grip and quality. BG3800 is a size 7 basketball, which is approved by FIBA. During the first few uses it does feel and look smaller, however, upon usage it stretches and turns to normal size.
It could have been amazing if these were shipped inflated and ready to play, however, it's not the case. Let's hope Molten does something about it.
The basketball that has enjoyed the honour of being an official NBA ball for several years, made of genuine leather, this sure requires time to break in and feels stiff and tacky at first but once it's broken in – it is a beast on the court. With NBA's logo imprinted on it, it will make you feel like playing as your superstars play.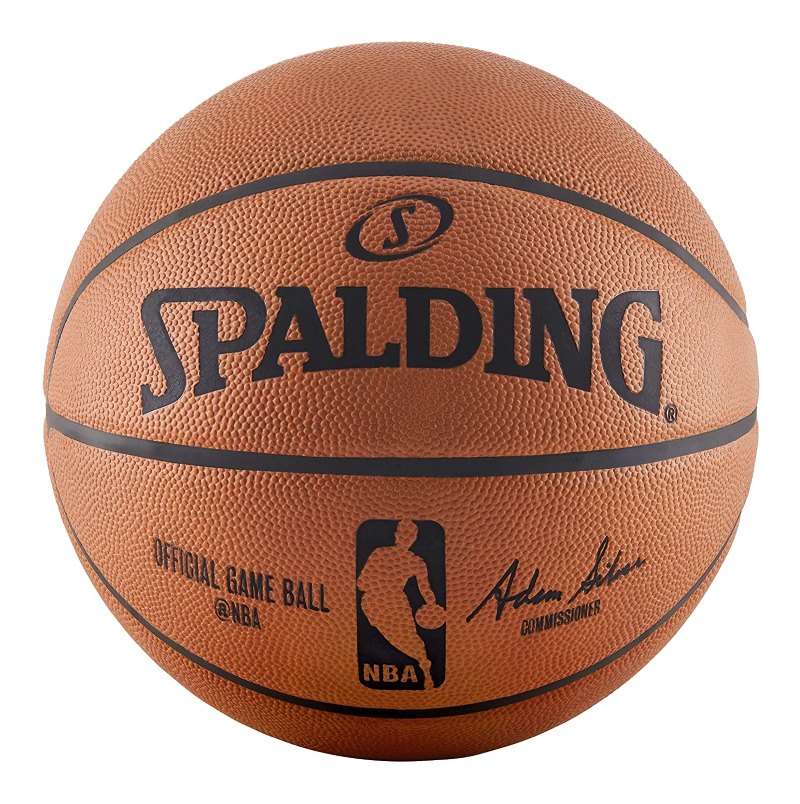 It grips well since it has wide channels to make it perform well at grip, as well as it facilitates a nice level of ball control. It is suitable for pros and amateur basketballers alike as it's made up of efficient rubber which makes it bounce consistently and makes it one responsive of a ball. Its exterior proves to be quite durable as well, but not as much as its counterparts.
The ball control that Spalding's NBA Official basketball offers is nothing to doubt, after all it is the one used by pros in NBA. This surely will help its players improve their performance once they are familiar its movements and way of rotation and once the ball is over its break in period.
This ball is designed keeping in mind NBA's size and weight standards. It is available in 3 sizes and a range of colors to choose from. When it comes to price, it is sold under the price tag of less than 200$, being a leather basketball it is worth the money considering its performance on court, its feel and materials.
However, durability is something Spalding needs to work on, for this ball. Even though its price is fair but it not being that durable than its other leather competitors, and even composite leather ones, does feel like a downside.
A budget performer basketball which proves to do well at the grip aspect, and is quite soft at the same time. Due to its design being a symmetrical one it grips well and facilitates dribbling and shooting, the reason why it is so loved by all kinds of players, be it amateurs or pros.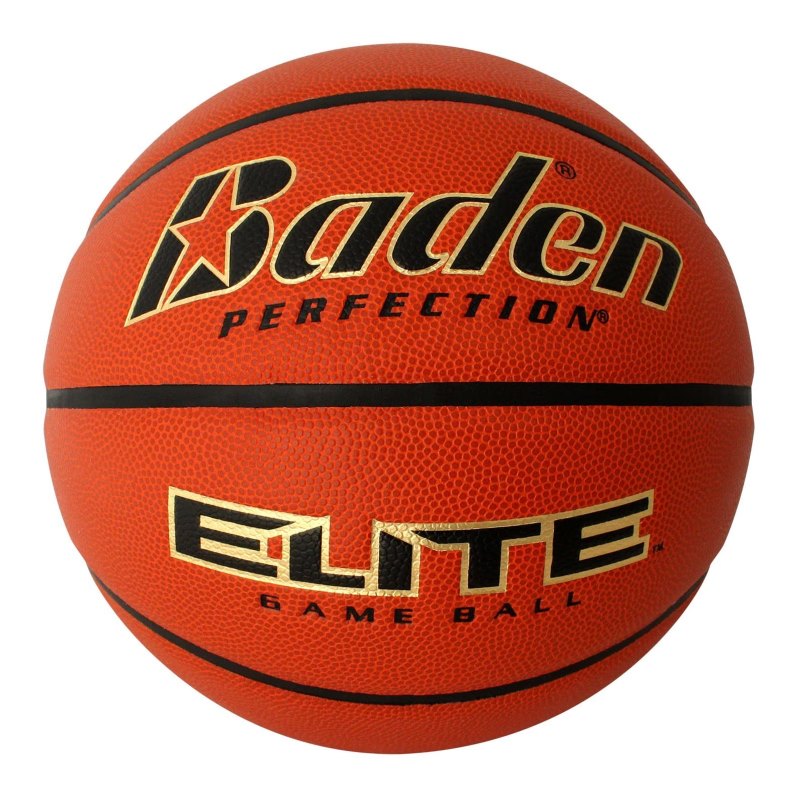 Its ultra-soft microfibers help with the grip and ball control, however, they are too soft to survive on asphalt and concrete outdoor so it can not be your friend when playing basketball on an outdoor court. Also, it is an indoor ball and it's quite durable when used indoor so it does its job well.
Another thing to consider here is, some players like their balls to be really soft while others do not, however, this is more of a personal preference. Baden Elite tends to be moderate when it comes to the softness of the ball. Nonetheless, it is one game changer and durable of a ball, even after over an year of usage it still performed amazing.
Some reviewers say it still managed to look new even after 3 years. Baden Elite retains the air well, bounces great and up to the expectations. Another most loved feature of this ball is its stealth valve, that hides its valve skillfully, making this consistent in grip and bounce and not letting the valve interfere. This NFHS approved ball is available in 2 sizes: 6 and 7. Baden Elite is priced around 65$, and it proves to be a bang for the buck.
A basketball with a premium feel to it, even though it's made out of composite leather but it still feels like genuine leather in hands.
It is quite grippy and with its C2C (Core to Cover) technology, it doesn't feel tacky but rather soft because of sponger rubber so those who think Wilson Evolution to be a bit on the firm side they will like to play with this ball from Rock more.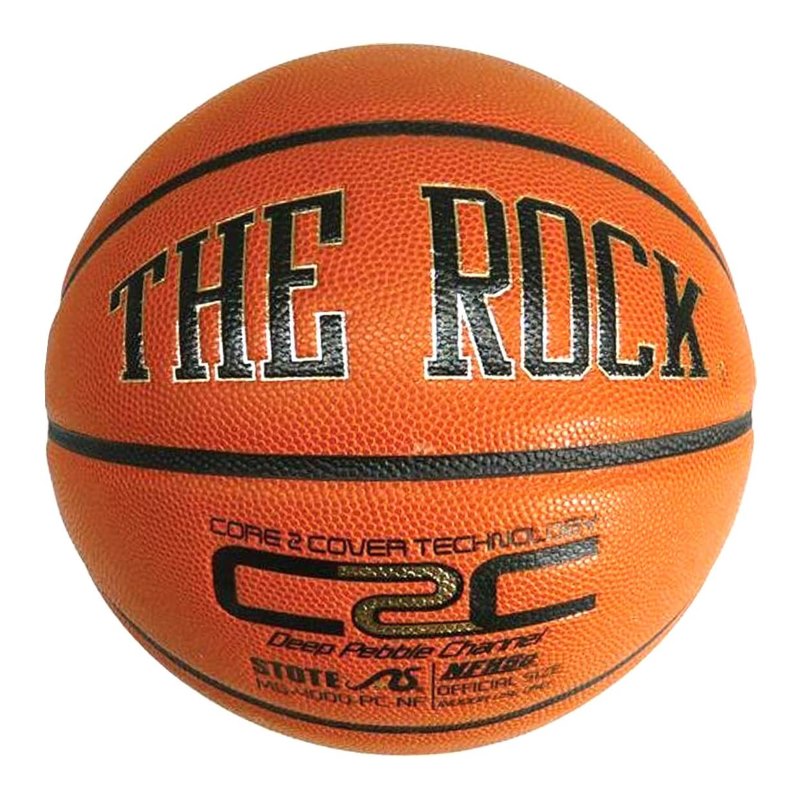 Sponge rubber exterior gives this ball and edge to it as it is quite controllable and the use of 100% nylon windings is a cheery on top for its beastly grip. About the bounce and performance, it is quite a performer, this NFHS approved ball is quite responsive and consistent when it comes to bounce which is its most loved aspect by most of the players.
It is not too low or too high, just the right and expected bounce which you can feel comfortable with in no time as it is quite consistent. Its patented surface helps with ball control too.
Rock C2C does a fine job at air retention too because of its double ply Butyl Bladder system, with its deep pebbled channels it grips nicely and retains moisture fairly well.
Although the basketball is quite durable, it is not recommended to use outdoor if you want your ball to live longer. This performer is available in sizes 5, 6, and 7. Rock C2C is priced around 50$, making it for sure a great value for money. A job well done by Anaconda Sports.
A basketball that looks quite different from the norm and even though the design is up to one's personal preference, its design looks quite good, not exactly a traditional one but it doesn't look bad either. This indoor composite ball performs well on an indoor court but when tested outdoor it didn't hold up well.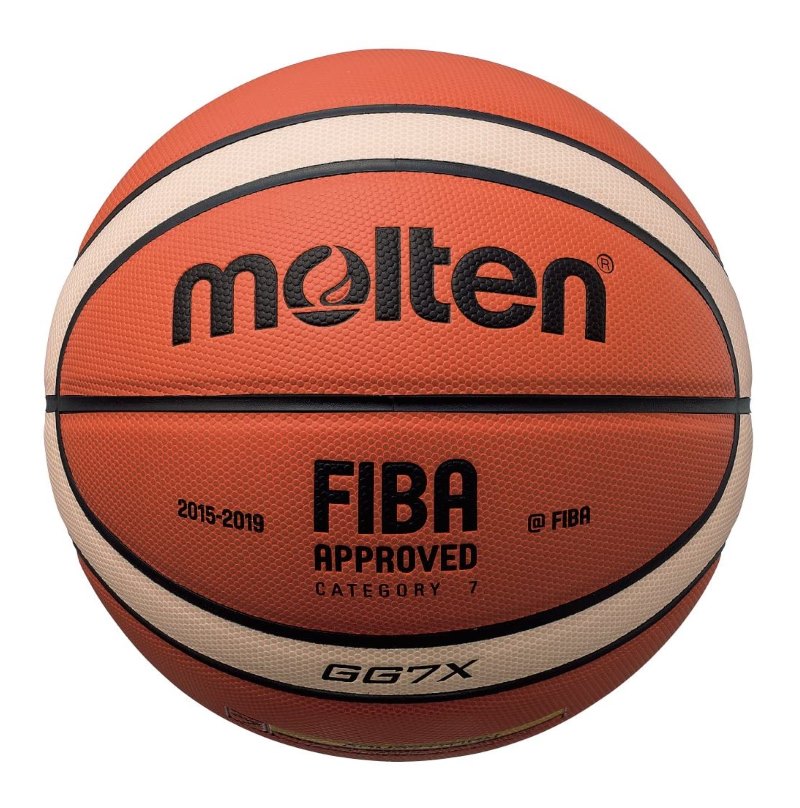 Approved by FIBA, International Basketball Federation, this ball is loved by international players and pros, and simultaneously is loved by college players and amateurs alike.
The composite material of this ball absorbs the moisture well so sweaty hands won't be a big of a problem, its X-shaped design also facilitates better rotation visually, (you can notice the way the ball moves due to its design) and hence makes shooting better.
As players get used to it they can very well predict the movements of the ball and develop their techniques better according to it. Both its design and surface pebbles contribute to a better grip and ball control. The Butyl Bladder system that this basketball has, helps it in making its bounce more consistent and responsive.
It happens to be quite soft, grippy and bouncy which makes the players predict its movement and bounce and that is what makes this ball a fine experience, the reason why it has so many positive reviews and is loved by players worldwide. Considering its price point which is around 60$, this basketball by Molten is quite a performer.
Another cherry on top is its 2-year warranty that it comes with, so you don't have to worry about any damage or leakage. However, it isn't shipped inflated, so you will have to get it ready before taking it to the court.
Coming from Spalding, a brand so trusted by the basketball players, this basketball is a great one to practice with, without breaking the bank. It's great at grip due to the ZK microfiber surface it features on its cover, its Butyl Rubber Bladder helps the ball with air retention and nylon windings give this ball an enhanced structure.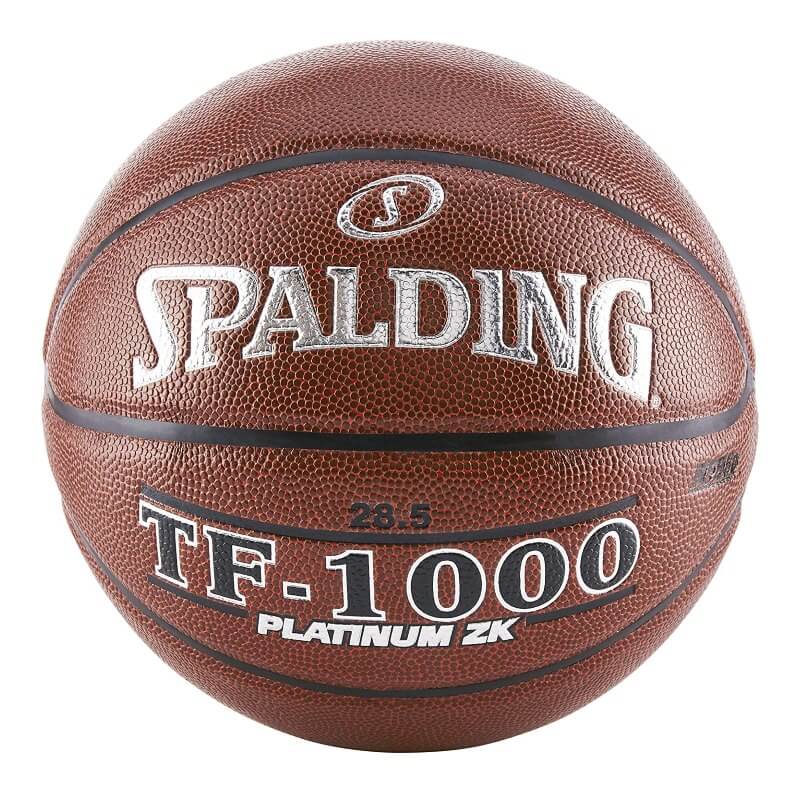 It can absorb the moisture well, hence not being a struggle for those who have sweaty hands. It may feel tacky at first, but once it is broken in it can feel so soft, controllable, and smooth. Even though it does grip nicely, has a great feel to it, and performs well, its bounce is not that consistent every time.
It's not that noticeable though so some players were fine with it, while others preferred other basketballs with better bounce. If you don't find it a serious issue then you can give it a try, it won't disappoint in overall performance. Furthermore, if you prefer more bouncy predictable and consistent basketballs you can choose other options we have listed above.
Its rooted design for the channels helps recognize the ball movements and provide gameplay with precision. TF-1000 is approved by NFHS which is another plus point for this budget-friendly basketball. It is available in sizes 7 and 6, comes inflated and ready-to-play with a price which is under 60$.
Bottom Line
To sum it all up, when making a purchase of an indoor basketball one needs to consider and have a look at certain factors and features the ball needs to have, like, fine grip, precision in movement and rotation, consistency in bounce, comfortable feel, moisture absorption, air retention, materials and the durability.
We have chosen and discussed in-depth 7 performer basketballs out of abundant options available in the market based on these factors mentioned above.
If you want budget basketballs while not compromising the performance you can go with Wilson Evolution, Baden Elite, Molten's basketballs and The Rock C2C.
Wilson Evolution provides a good grip but doesn't cut into your fingers well if you prefer the firm grip, however, if you like your basketball to be softer you can go with Baden Elite or Moltens, these are soft but do not feel deflated or shrunk and provide a great grip and ball control.
If you are more towards a premium feel well-performing basketball then you can go with Spalding's NBA Official basketball made with genuine leather, however, in this case – The Rock C2C is also a great option since it feels premium, like real leather and performs just as amazing!
So it was our take for … if you are wondering about basketball for outdoor courts, then read our articles about Best Outdoor Basketballs.