Playing basketball outside is a wonderful way to exercise and have fun with friends and family. To get the most out of your game though, it's very important to choose the right basketball.
As you know, not all outdoor basketball will be suitable for your game. Hence, it is necessary to buy one that meets your needs and provides you with the desired quality and features. Not sure how to select the best outdoor basketball in 2023? No worries because I've got you covered!
In this article, we are going to discuss the best outdoor basketballs in 2023, what features you should be looking for, and the types of basketballs that are best suited for different types of play.
Factors To Consider While Buying An Outdoor Basketball
Whether you are buying a basketball for professional games or just leisure time, you need to consider some things at hand while purchasing a basketball. It will ensure you buy the best outdoor basketball to boost your gaming skills. Read the below list!
Basketball Size
first thing first. You need to be clear about what size you are going for. For example, if you want it for your little one, then buy him a 5-size ball. Now women can have a 6-size ball, whereas, for men, there is a 7-size ball.
Basketball Material
basically, three types of materials can exist in basketballs. Leather, composite leather, and rubber. If you want it outdoors, go for rubber ones because they have a perfect bounce.
Colors To Choose
you can choose whatever you like. However, most of the players prefer a traditional orange ball. But for uniqueness, you can purchase other colors too.
Bounce
make sure the bounce of the ball is consistent and is inflated properly between 7.5 and 8.8 PSI.
Grip
As outdoor basketballs have to go through tough conditions, make sure it has a special texture to tackle sweaty hands.
Best Outdoor Basketballs
IMAGE
PRODUCT
FEATURES
Spalding Street Outdoor Basketball
Affordable
Perfect bounce
Perfect for beginners
Check Price
Wilson NCAA Replica
Durable build-up
Compact feel
Light in weight
Check Price
Champion Sports Official Basketballs
Nice grip
Balanced bounce
Thick and sturdy
Check Price
Spalding NBA Replica Basketball
Bouncy
Durable material
Solid grip
Check Price
Chance Rubber Outdoor Basketball
Good bounce
Incredible grip
Fantastic texture
Check Price
Macgregor Multicolor Basketball
Strong construction
Enhanced grip
Excellent bounce
Check Price
SKLZ Control Training Basketball
Durable construction
Good grip
Great training tool
Check Price
Baden SkilCoach Basketball
Hand placement guides
Great for beginners
Durable material
Check Price
Molten Outdoor Basketball
Amazing texture
Holds air well
Durable
Check Price
Under Armour Curry outdoor basketball
Incredible grip
Balanced bounce
Durable material
Check Price
So, without further ado, let's dunk onto the basketball at number 1!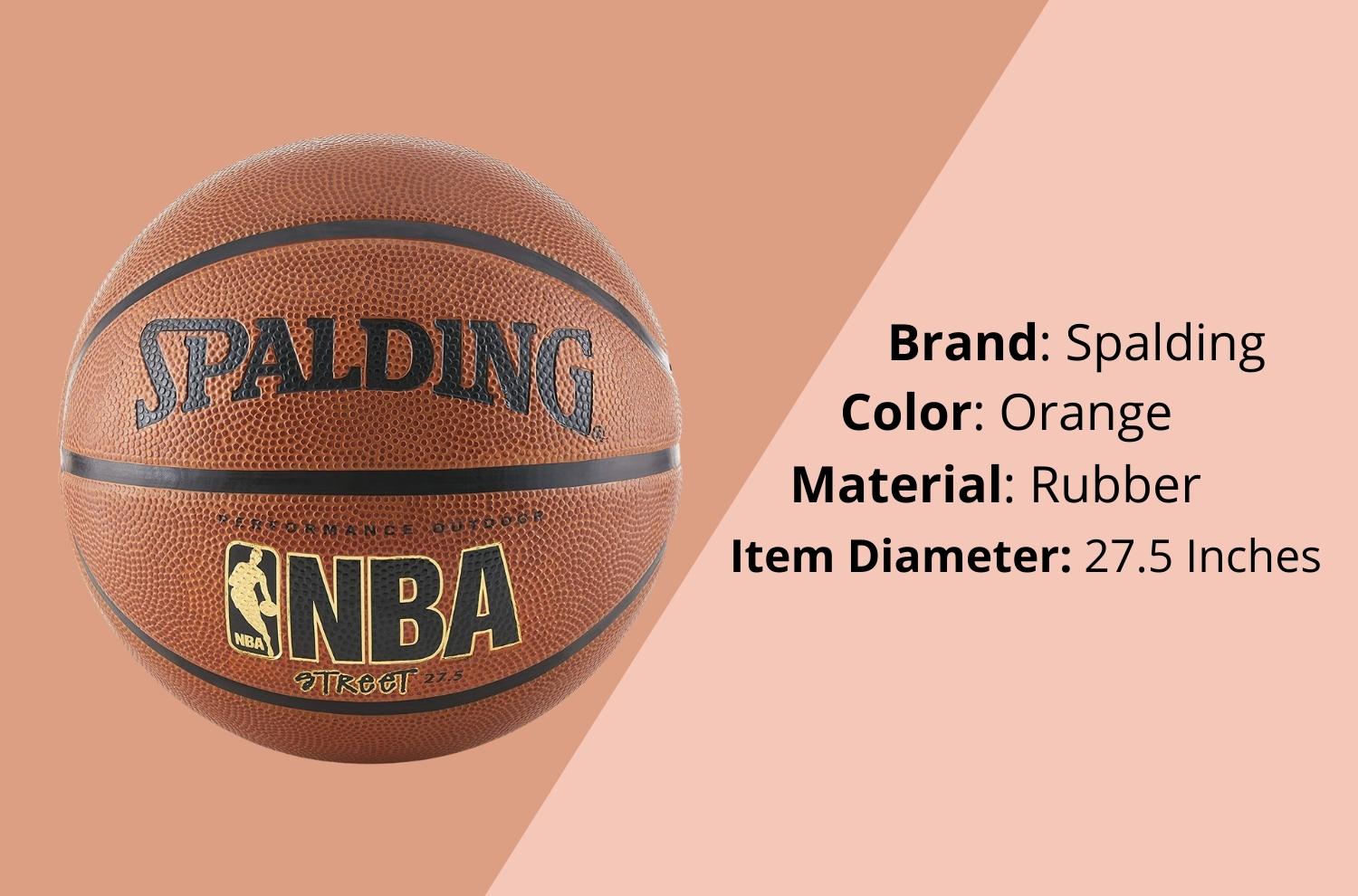 Spalding has always been the best at what they do! If you are looking for a basketball that arrives ready to shoot hoops, then this might be the perfect one to go for.
This awesome basketball is made up of rubber.
The superior quality of the rubber makes it perfect for dribbling and holds a great grip while you are playing around. Even your palms won't feel any sweaty while having this basketball.
Apart from the perfect texture, it has this incredible bounce that will never disappoint you. Even if you are a beginner and want to have a good time playing outdoor games, this basketball can work fine.
Also, the texture is sturdy enough to stand up even the stubborn thorns around. If you want to use it outdoors for some days, the durable design will help you control and balance it while making great shots.
Pebbling on the ball's surface allows you to have a good grip of the ball, whether it's raining or too hot. Overall the surface feels very soft in hands and has a decent feel.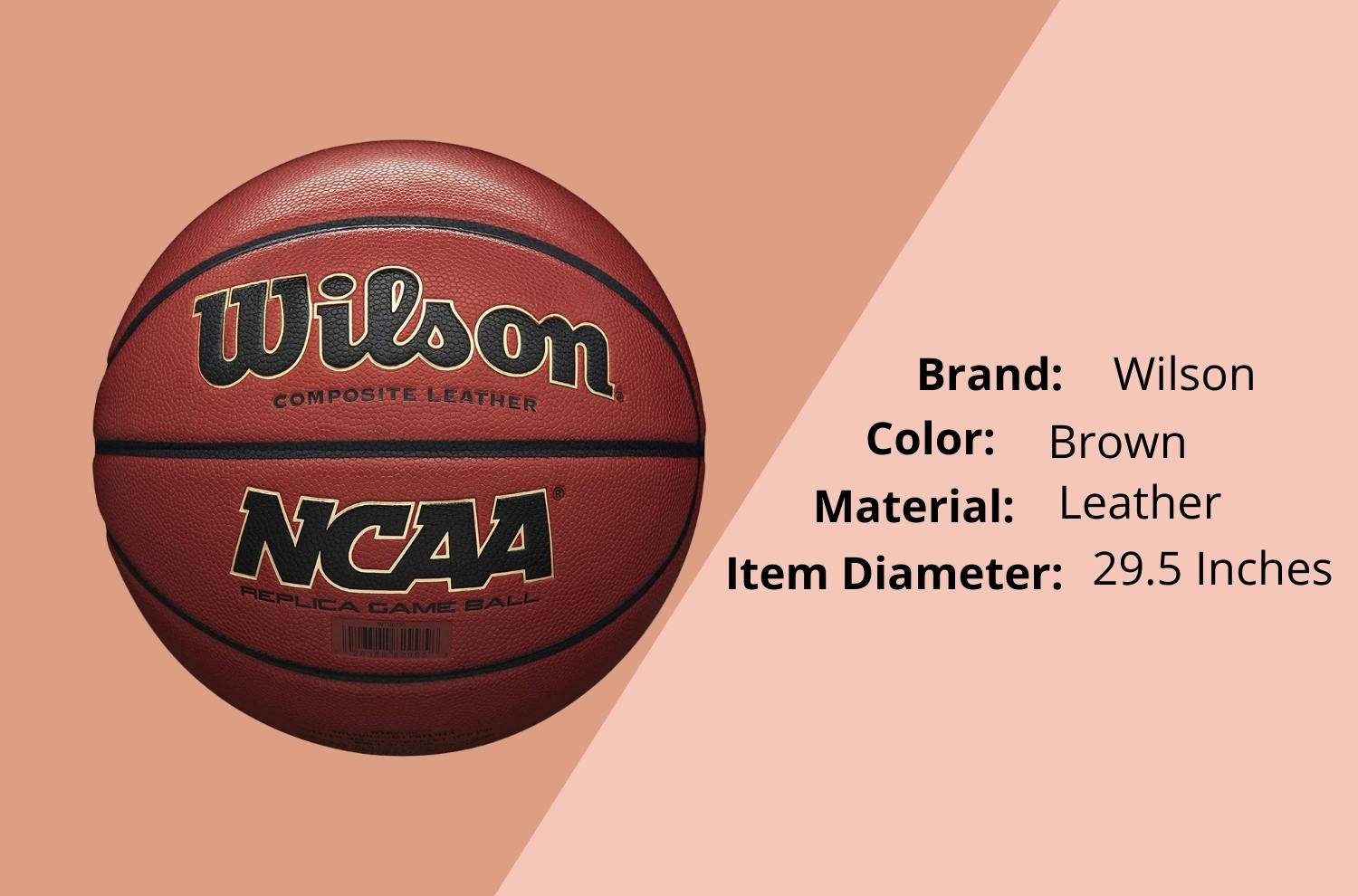 Wilson always promises its players a top-notch quality. Whether you are a pro basketball player or a lunchtime player, this basketball will assist you in all sorts of scenarios. And that too at a trivial cost that is just unbelievable.
This basketball has the same patented material that you might get to notice over the official NCAA games. And this basketball comes with a moisture-absorbing cover to keep it bouncy and dribble for long. Sounds just perfect for the outdoors!
Moreover, with the addition of cushion core, this basketball is amongst the favorited of many professional players. The outer layer is leather, which absorbs the moisture perfectly to give that superior grip.
It also comes with a 100-percentage composite cover surrounding the whole basketball giving it durability and functionality. Besides, it has a cushion core carcass inscribed into the texture, which makes it easy to make super shots just with the tips of your fingers.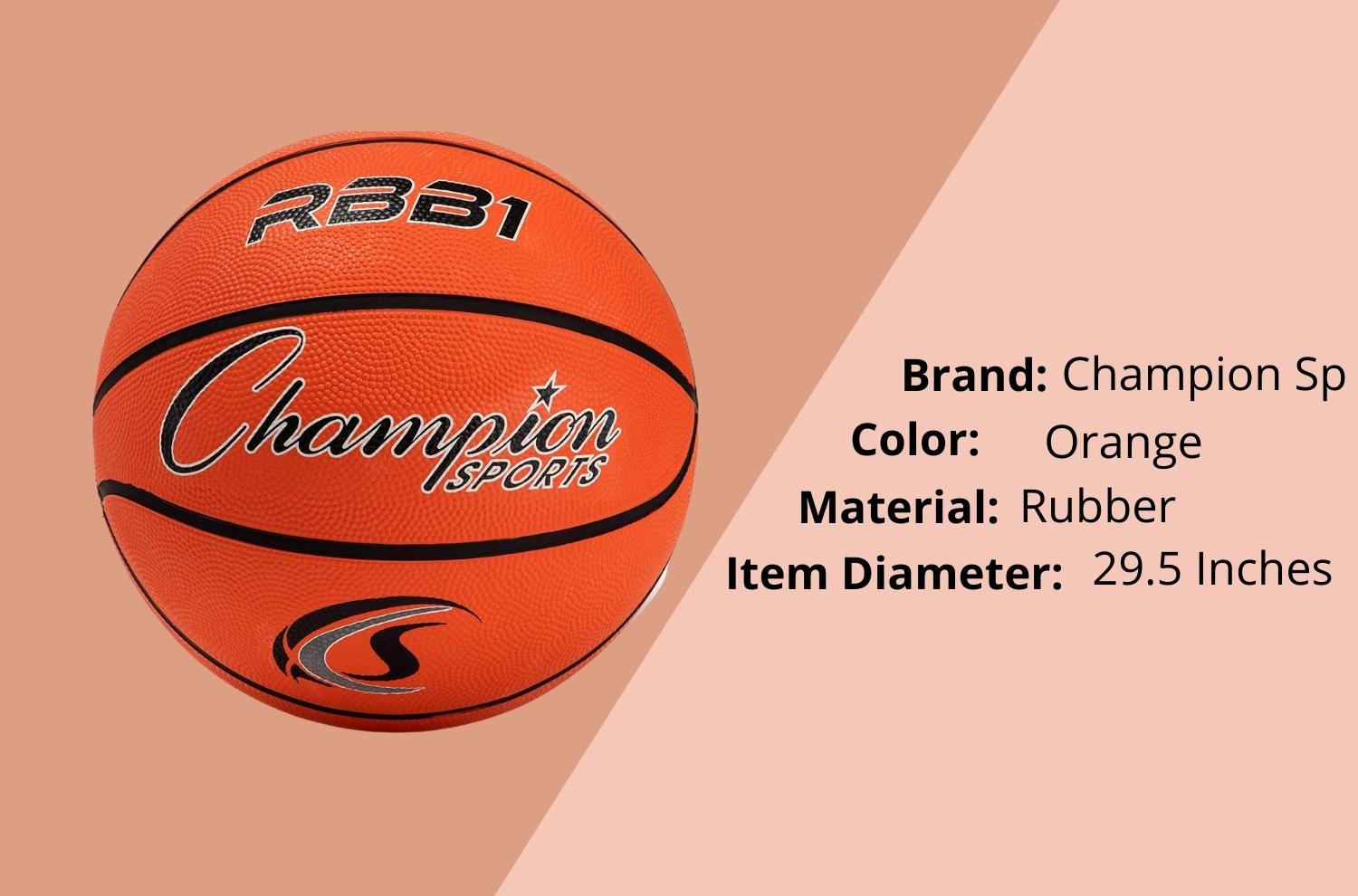 This basketball has a high-quality rubber composite cover and is designed to play almost on every surface. Whether it's outdoor in the cement or grass or indoor on tiles or marble floors, this basketball is a pro at every kind of surface.
You don't have to be a kid to enjoy basketball! This basketball is designed for every kind of age group. All you need is a hoop and net and Champion Sports basketball, and you are ready to win the game.
Having a 2-ply butyl bladder, this basketball has superior air retention. It ensures a perfect bounce along with a robust flight every time you toss it into the air. You aren't getting some ordinary basketball to play with!
The heavy-duty rubber composition on this basketball covers the whole surface. Just making it tough to withstand all kinds of harsh surfaces you throw it onto. Plus, it comes in so many colors which you can choose according to your preferences.
Besides, the size can also be selected and adjusted as you like. To cater to everyone's needs, it comes deflated so you can inflate it just according to your own need.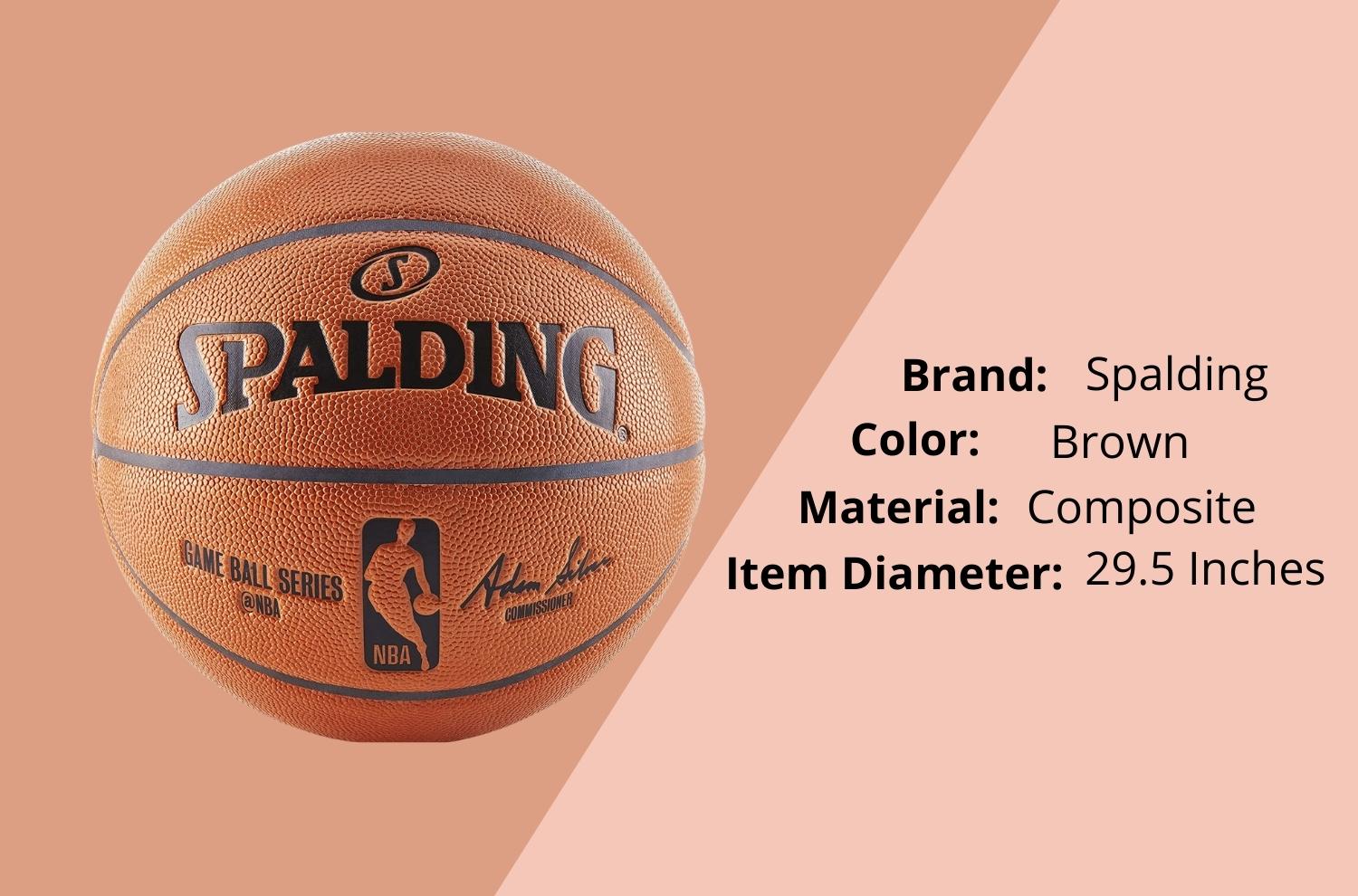 If you want to buy a basketball recommended by one of our NBA experts, then the Spalding NBA Replica Basketball is what you can go for.
Spalding NBA Replica Basketball comes inflated and is ready to shoot out of the box. The size is perfect according to what a standard basketball might usually be. And it doesn't feel any bulky in hands.
A durable composite cover gives just the best durability and top-notch performance to this basketball. Whether it's the gym or a park, this basketball is just a maestro at every place, just like the pro.
Additionally, this basketball comes with a tacky texture to have a good grip. a premium composite material is integrated into the texture to give an extra layer of durability on tough surfaces.
This basketball is soft and tough in the good sense to give it that perfect tackling grip. Because of this, the bounce is well balanced and has an appropriate air pressure. In addition, the butyl bladders add up an extra layer of durability for playing outdoors.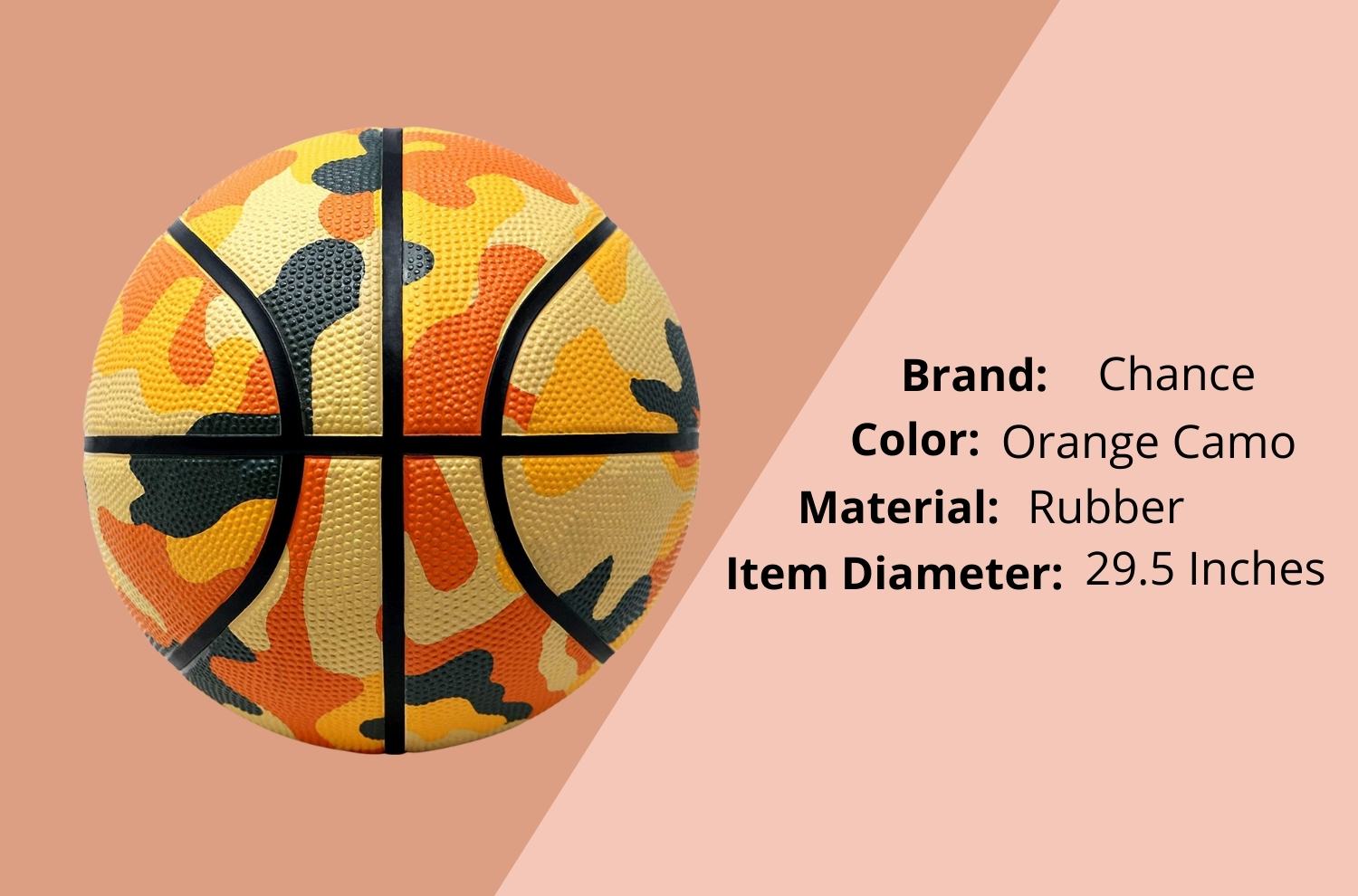 The quest for amazing rubber-made basketball ends with the Chance Premium Rubber Basketball. Outdoor or indoor, it works at all places. Besides, if you are an adult, don't worry as it comes in different sizes to cater to your needs.
Made of premium quality rubber, this basketball has all the qualities of a perfect outdoor basketball. The rubber gives it a definite texture along with extra durability to last you for ages without wearing it out.
Aggressive pebble and deep channeling patterns have gifted this basketball a perfect grip. You can have an ultimate grip and control your move just from the palm of your hands. And for inflating it to the right pressure, it comes deflated. So, you can inflate it just the way you like it.
Usually, Chance basketballs come in three different sizes. One is for youth, the other is for women, and one for men. All of these sizes are a bit different in measures from each other. And with that cool aesthetics, everyone would love to own one whether they play basketball or not.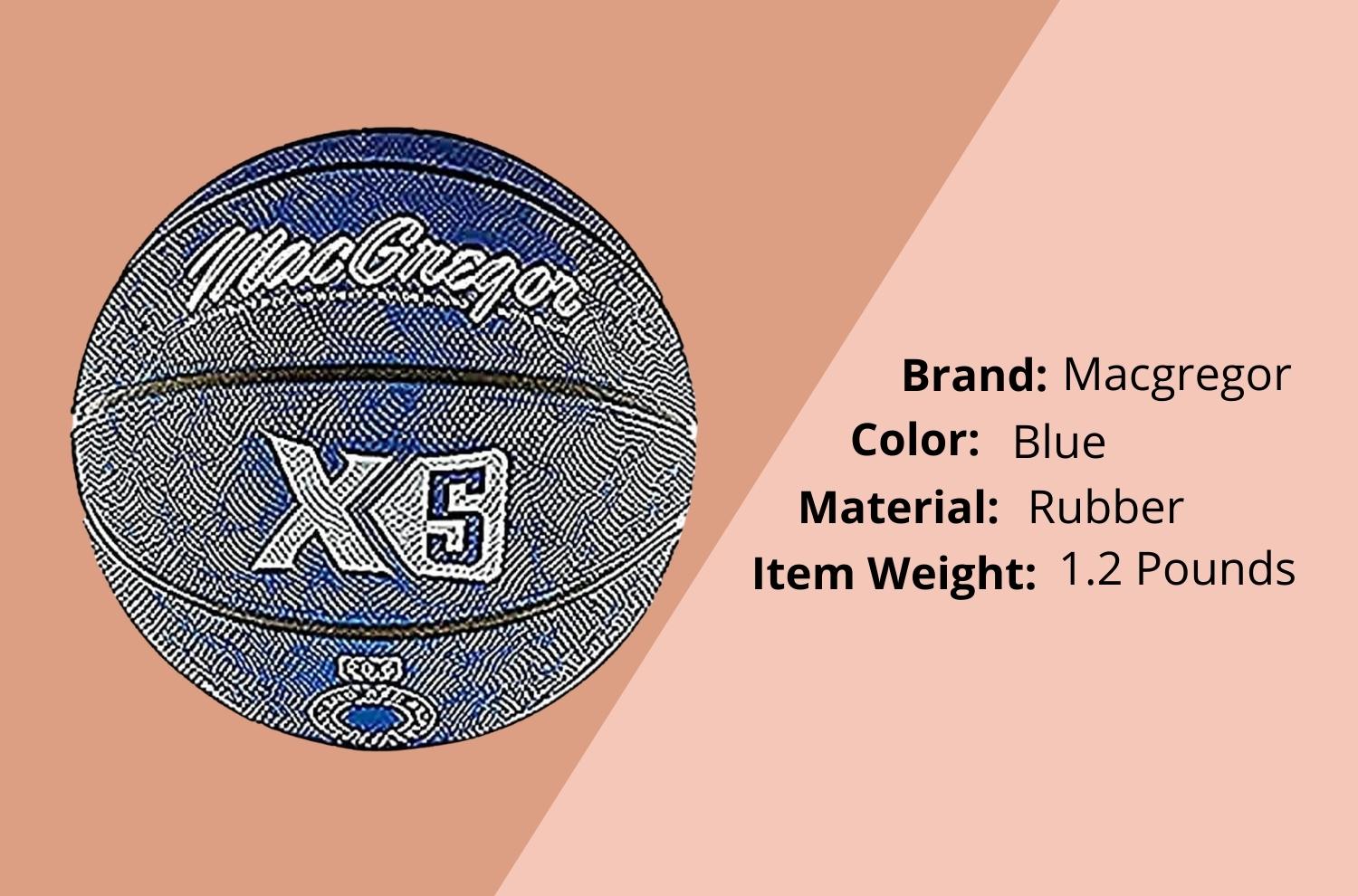 If you are a beginner and looking for a tough basketball, we recommend you go for the Macgregor basketball. It is a bright-colored basketball that depicts how fun it will be to own one of them.
It is made up of composite to give it extra durability to withstand harsh weather conditions; the powerful construction can even withstand rocks, pebbles, and even thorns. It is a perfect basketball for outdoor as well as indoor.
Apart from this, a deep channel and pebbling have been inscribed on the basketball. This unique texture gives this basketball great control. Along with that, it also aids in giving that extra edge of grip while making shots.
Moreover, the basketball comes in so many colors that you would just want to own every one of them. Their unique aesthetics make them stand amongst the many ordinary basketballs; choose what suits your personal style.
Lastly, it comes in three different sizes. So, whether you want it as a gift for your girlfriend or boyfriend, they have a basketball for everyone. And you can choose the perfect color as well. That sounds like a good birthday gift, right?!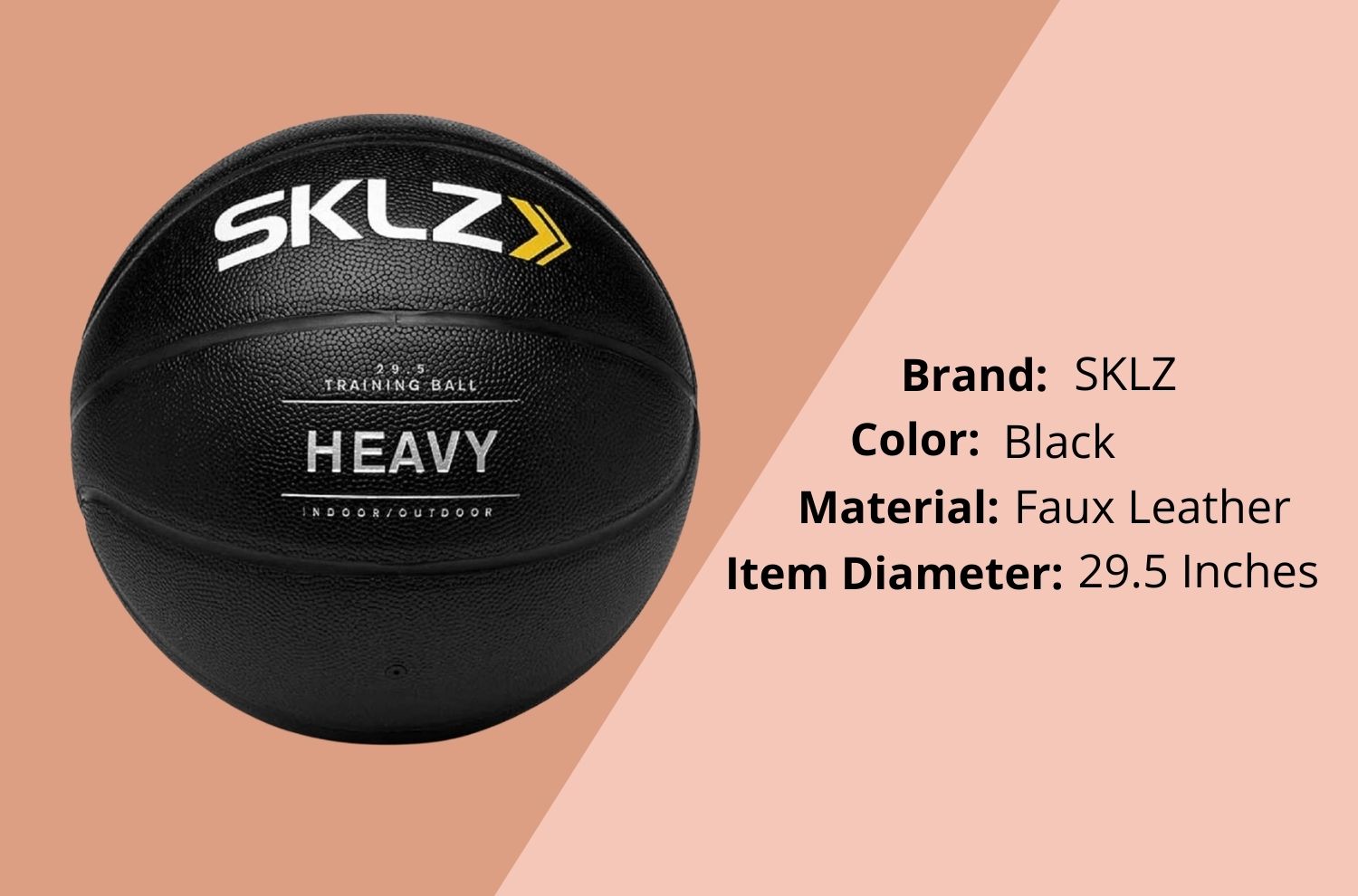 The SKLZ lightweight basketball is just more than awesome to improve your games. The smaller size gives this basketball a perfect hold, along with lots of pressure and focus, especially for dribbling and drills. This is good for beginners and wants to try their hands over a lighter ball.
This basketball is made up of synthetic leather. It is high-quality and provides that real feel while playing on the field. Moreover, the material is long-lasting and can be used for training indoors and outdoors.
This ball has a perfect weight of 3 pounds. Because of this, it helps you train and gives you the ability to acquire muscles while strengthening your fingers, wrists, and forearms.
Moreover, it is engineered to give that perfect bounce while keeping the dribbling pace up to mark. Besides, if you like to go for a different size, you can choose amongst the three different sizes available.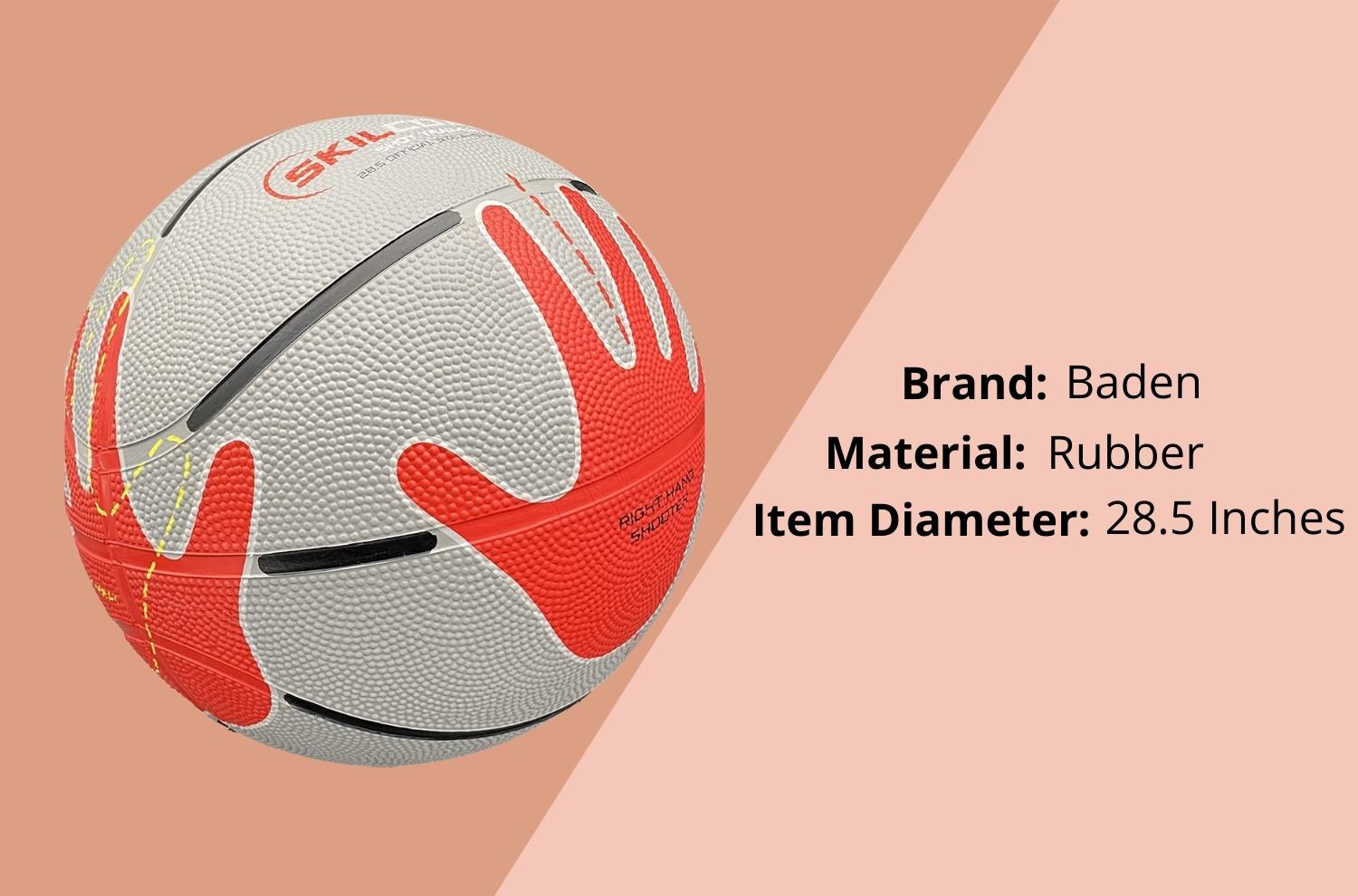 Baden has always been producing top-notch basketballs that too keeping in mind the highest durability possible. This Baden SkilCoach Basketball comes in two different sizes. Usually, they are suitable for any kind of age group.
It comes with a rubber out cover that can withstand any tough tear or wear while playing outdoors. The texture carved on it is perfect for giving you an awesome grip no matter what game you are playing.
For a unique aesthetic, it has hands inscribed over it for both lefts- and right-hand shooters. This makes your basketball unique and guides you where to place your palms while making a victorious shot.
A wound core is present on the surface to provide the maximum air retention possible. This perfect balance gives it a perfect bounce that is balanced and not loop-sided.
Because of its perfect air retention, high-end professionals mostly use it for training and for learning shooting techniques.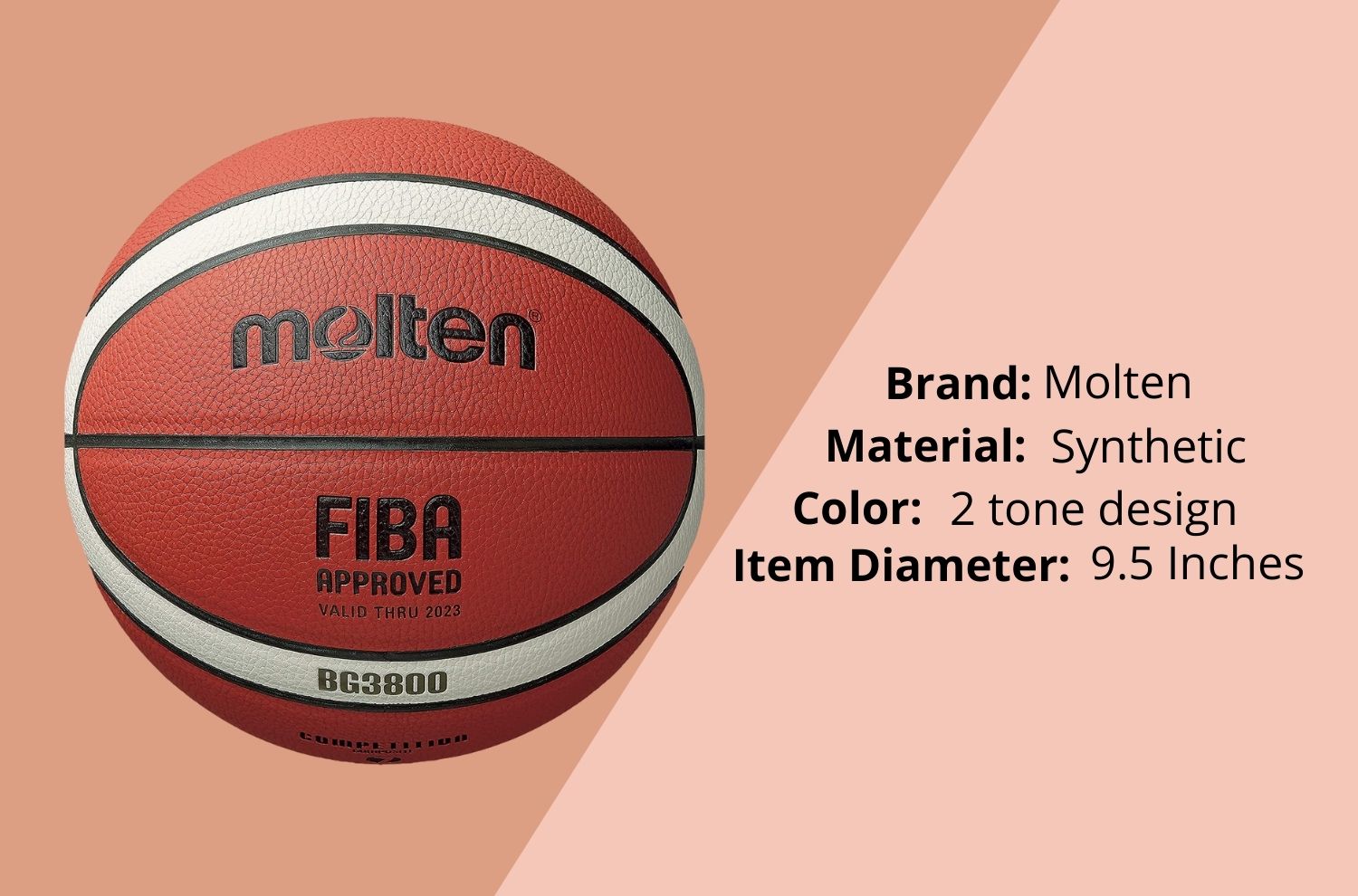 Molten has always been the official basketball of the FIBA for many reasons. The reason lies in its superior quality, control, and grip of maximum strength for giving optimal performance.
It has this consistent bounce whether you are playing outdoors or indoors. The outer layer of this football is made up of synthetic leather having shallow grooves. Besides, the contrasting colors give it a more unique and stand-out feature.
Because of its synthetic cover, this basketball can withstand almost every kind of wear and tear. You can try this basketball even on the toughest surfaces and yet will have it for a long time.
Additionally, it has a parallel pebble construction; it has a perfect grip and a consistent touch. Because of the carcass dual cushion technology, it provides perfect cushioning while bouncing.
It also comes with a 12-panel Giugiaro design with full flat seams that aid in a better grip and control, helping you make consistent backspins.
The Under Armour Stephen Curry is another good outdoor basketball covered with a patented UA grip skin rubber composite. Because of the unique outer layer has this extremely nice feel to it when you hold it in your hands.
Besides, the bright yellow color gives this basketball a unique color so you can recognize it even amongst the so many. Because of the UA grip, skin technology has an excellent grip on this basketball while giving it a cool feeling.
The material is durable and able to withstand dust or sand particles. The grip can withstand wet or sweaty hands without making it slippery or complex to control. Additionally, the channels on the ball are not too wide enough to have sand particles stuck into them.
This basketball has an amazing consistent bounce when you use it outdoor. All thanks to its rubber built-in, it can bounce perfectly while keeping the air retention to the fullest. Because of this, it remains inflated for longer times even if you play games daily.
Tips And Tricks
Whether purchased expensive or cheap, an outdoor basketball may only be able to last for about 4-6 months if you are regularly at games. Because of the tougher conditions, outdoor basketballs may often show signs of wear way too soon. To have its grip last longer, follow the below quick tips!
Make sure to clean your basketball after every outdoor session with a damp cloth and an old toothbrush.
Always maintain the inflation of the ball at an optimum level, not too high or too low, to maintain the perfect bounce.
Do not leave your basketball outdoors for days after playing with it. Extensive heat exposure may make its life short.
Do not use stain removers or chemicals to wash your basketball as it may damage its synthetic material.
Frequently Asked Questions
We've answered some of the most common questions below…
How To Identify An Outdoor Basketball?
Outdoors basketballs are typically made up of tough materials like composite or rubber. Outdoor basketball courts have rough grounds, so to have your basketball stay for longer, it comes with a tough outer to withstand extreme conditions.
How Much Should I Spend On Buying A Good Outdoor Basketball?
A good outdoor basketball may cost you around $29 to $69. However, keep one thing in mind you get what you pay for. Some affordable basketballs are also available in the market. Make sure that you know what kind of basketball you want to have.
Why Are Outdoor Basketballs Made Of Rubber?
Rubber can stand many harsh conditions. Because of the durable qualities of rubber, outdoor basketballs are manufactured from rubber more than often. Rubber basketballs have a lesser amount of pebbles on their surface and thus have a rough touch that gives them a perfect grip.
Final Verdict
To sum it up, selecting a basketball that suits your gaming style just the best is not an easy task. Hopefully, our guide to Top 10 Best Outdoor Basketball To Buy In 2023 has helped you a lot in deciding which basketball to go for.
If you are unsure, let us share some of our personal favorites with you! If you want affordability and durability simultaneously, Spalding Street Outdoor Basketball is one of our Best Sellers. But if you are looking for a high-end basketball to play with, then the Molten Outdoor Basketball will work well for you.
Before making any purchase, consider the basketball's size, material, grip, and bounce to ensure you are not messing up your game. So, are you ready to aim some hoops? If not, order one now and get ready!
So it was our take for … if you are wondering about basketball for indoor courts, then take a look here.