Guards are generally the shortest players on the court, who are quick, agile, and acrobatic. They are aggressive while defending and orchestrates the offense for their team. They are outside shooters, and alongside that, they are expected to perform a plethora of lay-ups while avoiding the vigorous screening of the opposition's offensive players.
If you want to mimic your favorite guards like Magic Johnson, Stephen Curry, Michael Jordan, or the late Kobe Bryant, you need the best basketball shoes for guards that stroke certain criteria.
Let's see those criteria:
Substantial traction to clutch onto the floor, which aids you to change your direction rapidly and helps you evade slipping.
Low or mid-cut shoes are essential as they don't hinder your range of motion.
Stability in the traction is a key component that separates a good basketball shoe from the best one.
Cushioning should be uniform and adequately supports most of the foot. It ought to be enough to protect you from an impact and simultaneously be responsive.
The lighter the shoe, the better.
Now let's take a peek at shoes that fulfill most of these criteria and are rated to enhance your performance even more.
Best Basketball Shoes For Guards
IMAGE
PRODUCT
FEATURES
Nike KD Trey 5 VIII
Amazing traction
Amazing bounce
Great Cushion coverage
Good Sideways stability
Nice fit
Check Price
Adidas Pro Boost Low Shoe
Good cushion coverage
Good construction
Good materials used
Good lateral stability
Durable out-sole
Check Price
Nike Zoom Freak 2
Great balanced weight
Good traction in indoor courts
Good cushioning
Best support in this price
Check Price
LI-NING Wow 8
Godly level traction
Boom cushion technology
Ultra-premium material used
Durable
Amazing support
Check Price
Adidas Dame 5
Herringbone traction is perfect
Very good cushioning
Best shoes for outdoor basketball
Check Price
Under Armour Curry 7
Amazing traction
Doesn't get dusty easily
Good fit
Good lateral support
Check Price
Adidas Harden Vol.3
Amazing Traction
Amazing cushioning
Good lateral movement
Boost technology
Check Price
Nike Pg 3 Tb Paul George
Good for two-way players
Amazing traction
Good in both dusty & non-dusty courts
Check Price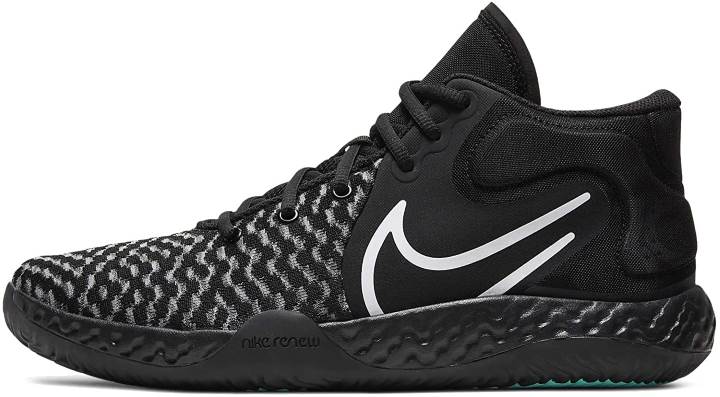 It falls in the budget category, but the feel of it will never make you think you are wearing some budget basketball shoes. With the pattern of traction, it will grip firmly onto both the outdoor and inside courts.
The bounce on these shoes is incredible, it provides great overall cushion coverage to your feet and having adequate impact protection, and it doesn't deprive you of feeling the court.
The upper material is shockingly good in this price range, The shoe doesn't have outstanding support as such, but your foot won't try to slide out; the sideways stability in this shoe is top-notch.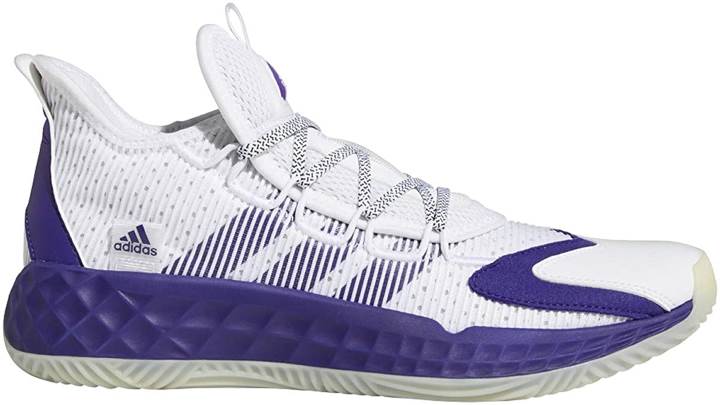 A shoe that I would label as an all-rounder doesn't stick out in one particular category. Still, it gives a satisfactory performance in many categories that cluster together to make a perfect shoe.
The herringbone traction on these shoes is amazing in the indoor courts, but they will pick up a lot of dust in the outdoor court. The cushion coverage is excellent, you feel the court well, but this shoe has terrible impact protection, which is an alarming part for some players.
The overall construction and the material used is satisfactory in the price range. The shoe's lateral stability is one of the best in this category, and you will not have any complaints in the support department as it combines with your foot brilliantly.
The shoes have a very nice fit with a durable out-sole, good for indoor and outdoor use.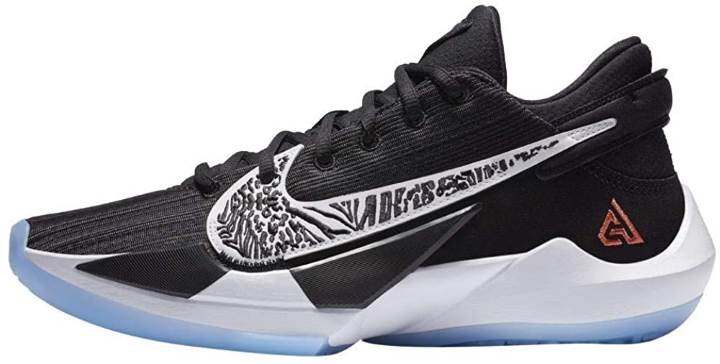 A shoe that doesn't have an apparent weakness as long as you don't dig very deep into it, a big improvement on its predecessor with an amazing value for the money you are spending.
It is a shoe that is not associated with one position only; if you are playing as a guard, it will work; if you are deployed as a center or a forward, it will still provide a great result, you can complain a little about the impact protection though.
Still, it is enough looking at how it is built for every position; the shoes are neither too bulky nor too light; Nike has struck a balance with the Nike Zoom Freak 2. The shoe grips onto the indoor courts well, but if you are outdoor, there is a little chance of you slipping, but the traction is much better than the Nike Zoom Freak 1.
It has a good cushioning and response, but the materials used in the upper are of okay quality, not good nor too bad. Still, in this category, some other shoes are providing much better material. It gives a solid lateral movement with a good heel counter, and certainly, in this price range, the support has to be the best. They are easy to hop into and have a perfect fit.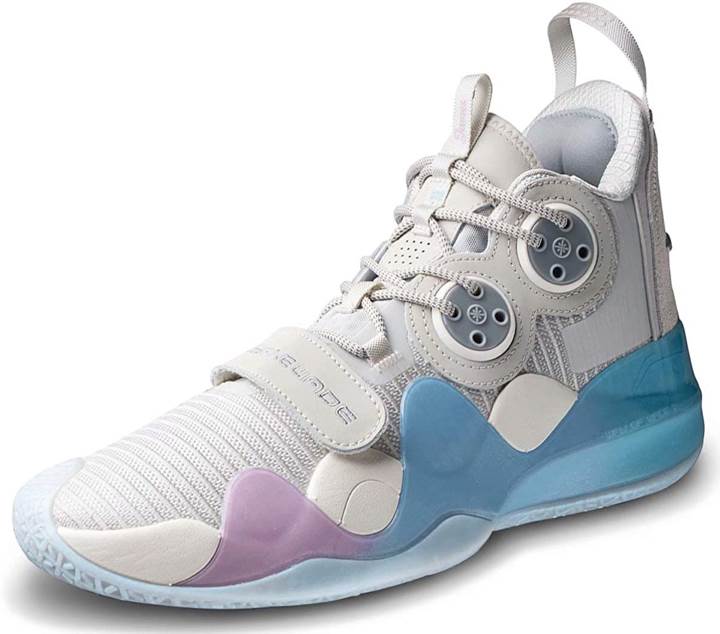 The price of this shoe might be high, but the artistry at your disposal is worth splashing the money for. An excellent shoe overall with just one blemish. The traction these shoes provide you will be a big assist while playing on any surface, both indoors and outdoors, and gives a mint performance.
You would be dumbfounded by the traction you are getting, which is the biggest plus point of this shoe; the guards will love to sport these shoes for such high-quality traction.
The boom cushion technology in this pair of shoes is the epitome of perfect cushioning; the cushioning makes it lighter, softer, comfortable and equips it with faultless impact protection, amazing court feel above all, the bounce added to it is just out of this world.
The mesh used on the top is the best you can get out there, and it will last you a very long time if you are a novice player, but as a professional, they will comfortably last you a season, as the material used is super durable.
The support on these is perfect for other positions, but for a guard, there is a little thing that I will mention at the end. The lateral movement, the ankle support, the support to your heel is of godly levels.
Still, these godly levels fall shorts for a mortal player playing as a guard because of the high ankle piece, which will bug off many guards, but if you can get used to that, then I assure you that there are very few shoes in the market that can touch the levels of LI-NING Wow 8.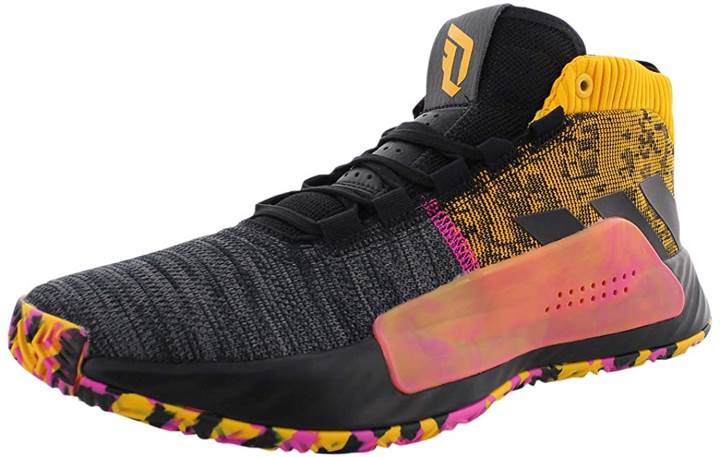 The Adidas Dame 5 are certainly not shoes that I would recommend to people for whom the shoes' looks are of pivotal importance because it doesn't look like a premium product.
Still, the performance it gives has certainly gone underrated. The lovely herringbone traction we had mentioned earlier is present here as well; it provides amazing grip on all types of floors but not the dusty floors, where it falls short a tad bit. The cushioning is amazing, with a great court feel and the court feel is superb.
The suede material used on the top is very cheap looking, and it is something the Adidas Dame could have massively avoided; it got a lot of criticism for this very reason. The lateral support, the movement of your heel in this shoe, is the highlighting aspect. These are among the best outdoor basketball shoes for outdoor courts and will give you a flawless experience on those concrete and asphalt courts.
If you can avoid the aesthetics, then this shoe's performance makes it a perfect companion in your basketball and would be one of the top choices for outdoor basketball.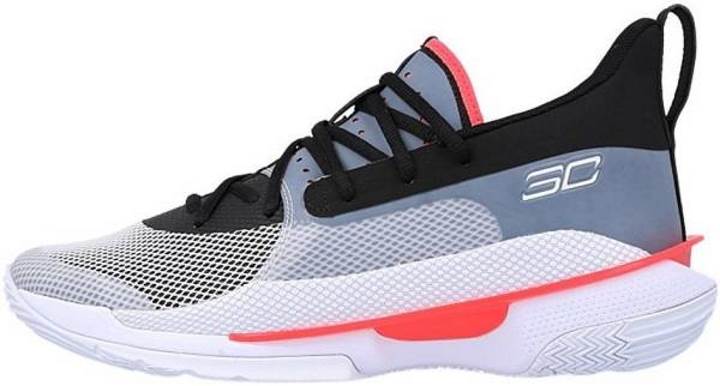 If you are looking for great responsiveness and a court feel with excellent traction but can compromise on the impact protection, this shoe can be a perfect purchase.
The traction gets a perfect score from my end; you can't find the slightest of flaws in the traction this pair of shoes provide, we tried it on the dustiest of courts, and it came out clean, if you need a shoe that holds well on such courts, then pick these with closed eyes, very few can surpass its traction on dusty surfaces.
The cushioning doesn't provide enough comfort and is the most disappointing aspect of these shoes or any other curry shoes out there preceding these suffer from the same thing.
The materials used are another downside of this shoe, but like the Adidas Dame 5, these are just problems related to aesthetics and won't negatively impact your game. I will not whine about the overall fit, the lateral support, and the heel counter of this shoe. They are outstanding.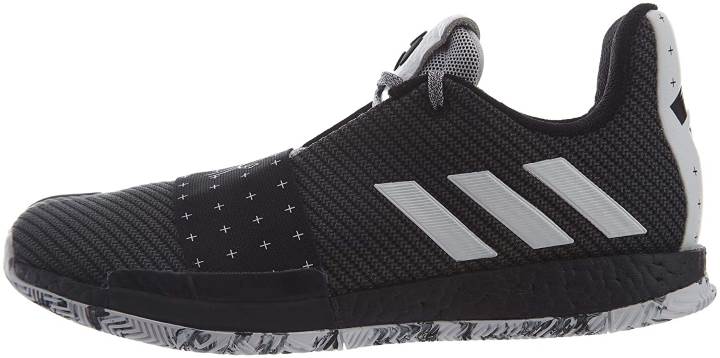 Released back in 2018 and even today, these are some of the best basketball shoes for guards on the market for a guard. The use of boost technology in these shoes makes them an excellent investment.
The Herringbone traction on clean courts will not be a hassle, but they attract dust crazily, and I would not recommend them on dusty courts unless you can clean your shoes regularly.
The cushioning in this shoe has no complaints from my side; with the court's impeccable feel, impact protection, and no compromises on the responsiveness, this shoe is certainly worth it. Many reviewers honestly very unjustly review the material; I find them very good and fulfill the expectations I had from them.
These shoes will provide a very stable experience to you, from the lateral movement to the overall aid to your feet; it is terrific. The rubber used in the shoes is fragile, so it is better to avoid using them outdoors.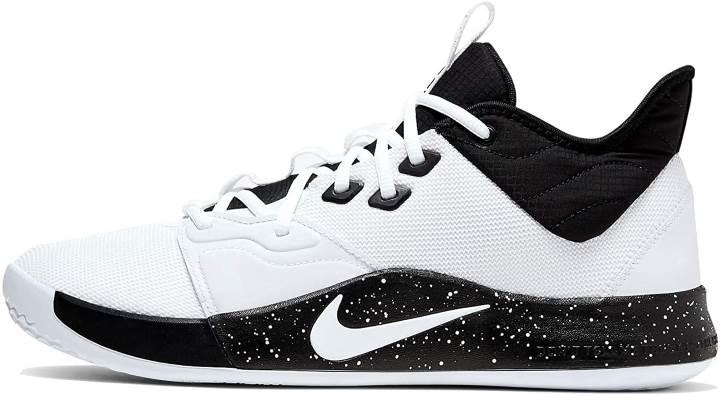 The guard is a two-way player, and these shoes are tailored for such a player; it will take time for you to get used to it. It took a few days for my feet to become buddies with this pair, but once they got used to it, I became a big admirer.
The circular traction will help you stick like glue to the court whenever needed, be it a dusty court or a non-dusty one. They have given special attention to the heel, and the material used in the heel will be a massive comfort for them.
The upper material has seen criticism, and some have labeled it as cheap, but I think it is down to the color you choose; in some variants, it does look cheap, but in others, it gives a perfect look. The horizontal movement in this pair is a highlighting feature; the lacing system and the heel counter will certainly increase this pair's support.
In the first few days, the shoe was not a nice fit for me; I wouldn't say I liked it to the core, but as time passed by, my feet got used to them, and I have never complained ever since. You can use them outdoor but not recommended.
Conclusion
These were the top 8 basketball shoes for guards that I tried and tested, and these were my honest words about each one of them.
Pick the right shoes for yourself, using the information provided because the right pair can elevate your performance and give you the much-needed boost to shine on the court and get the plaudits you deserve.