Finding the best traction basketball shoes is hard! This is why in this article we list the top 10 basketball shoes with best traction, so you can spend less time browsing the internet!
Traction is one of the most important features of basketball shoes, and this shouldn't come as a surprise to anyone who has played Basketball.
If the traction isn't good, it becomes significantly harder for one to play. I personally can't play with shoes with bad traction!
You can have a great lightweight shoe with an amazing cushion, it fits perfectly!
But what's the point if the traction is below average, or simply bad?
When you have no grip at all, and you simply can't do what is needed!
To ensure you don't end up buying a bad shoe, we've listed our top picks for the best shoes with traction below!
Best Traction Basketball Shoes
IMAGE
PRODUCT
FEATURES
Adidas Originals Men's Pro Bounce
GeoFit technology
Forge fiber technology
Has Torsion plates
Good bounce
Check Price
Nike Men's Jordan Why Not Zer0.2
Supportive
TPU support
EVA heel cushioning
Excellent bounce
Check Price
Jordan Men's Jumpman
Herringbone traction pattern
Sturdy
Grooved heels
Good grip on the floor
Check Price
Under Armour Men's Curry 3
Excellent traction
Outstanding material
MEta-wing carbon fiber shanks
Durable shoes
Check Price
Adidas Crazy Explosive
Unique traction pattern
Outstanding grip on the floor
Super comfortable
Lightweight
Check Price
PUMA Men's Legacy Disrupt
Hybrid foaming
NRGY beading
Best traction
Classy look
Check Price
PEAK High Top
EVA and blue Ortholite foaming
Aesthetic design
Super comfortable
Easy fit
Check Price
Under Armour Men's HOVR Havoc 2
Herringbone traction
Breathable material
TPU shanks
Zero gravity feel tech
Check Price
Adidas Men's Ownthegame
Cloudfoam and Ortholite cushioning
Lightweight
Stable
Firm Adiwear
Check Price
Nike Precision Iii
Lightweight
Sturdy material
Durable sole
Circular multi-directional traction
Check Price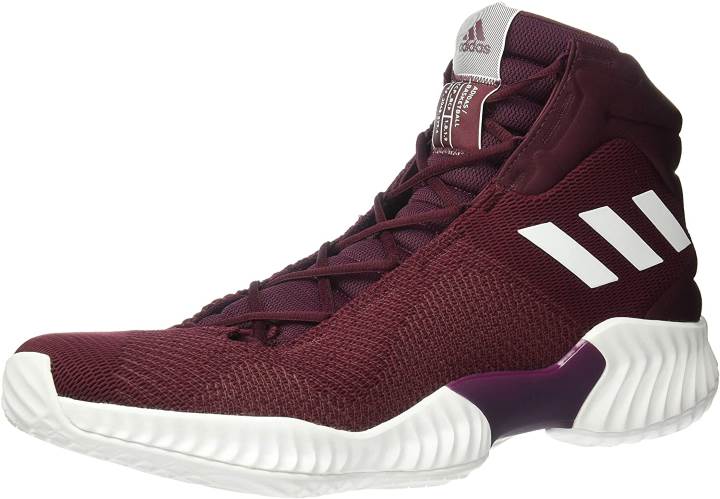 The first from our list is the elegant Adidas Men's Pro Bounce basketball shoes. These basketball shoes are a luxury to own, providing ultimate comfort merged with style and protection. Firstly, the unique forge fiber tech employed by Adidas gives them longevity by safeguarding them against the elements.
Secondly, the embedded bounce cushioning takes these shoes to the top level by promising safety to the joints. As a basketball game consists of high jumps, these cushions in the mid-sole absorb the maximum shock. The forefoot cushioning also gives maximum impact protection for a heavy strike and provides quick movement.
Thirdly, these are the best basketball shoes for traction in 2023 as they have a unique traction pattern. The circular radar traction is made with hardened rubber, keeping the all-direction movement in mind. The wider bottom sole with circular traction offers stable movement in any direction.
The Torsion plates embedded right between the forefoot and heel provide ultimate comfort and stability, saving you from issues like plantar fasciitis. The Geofit tech proves extremely beneficial that provides cushioning around the ankles. GeoFit activates with your body heat and fits according to your feet, which is exceptionally comfortable.
Perform great on the basketball court with the ultimate pro bounce by Adidas. Make fast foot strikes with less strain on the feet with high bounce and Torisan plate rendered by these shoes. The comfortable fitting by the geo fit tech makes these the best shot.
Nike Men's Jordan Why not Zero is among the most favorite basketball shoes the players have owned. Why Not Zer0 is considered the best traction basketball shoes due to its circular traction pattern. The grip it provides is unsurpassable, and the material it is made with makes it durable and sturdy
The zoom air cushioning at the forefoot area offers excellent support to the foot and bears almost all the shock at the impact point. The EVA heel cushioning offers exceptional comfort and a great bounce. These shoes offer outstanding forefoot impact protection and support during a fast pace running and layups.
Speaking of the material, the upper body is made up of mesh, giving it a very exclusive look. The straps found around the rear, middle, and forefoot can be customized according to your foot shape. In addition to that, the shoe fits true to size, but if you worry too much about that, you better try on one in the store.
Support wise, these shoes pose very efficient for stability during quick movements. They provide a flat forefoot area and a broader base to serve more steadiness. The thermoplastic unit in the rear heel and the midfoot area provides paramount support during sporting and is responsible for the impactful running.
Overall, these are the best basketball shoes for traction as the EVA heel cushioning and TPU support provides optimum performance. These shoes offer an incomparable grip and take care of your foot health. This is among the favorite picks by the basketball players.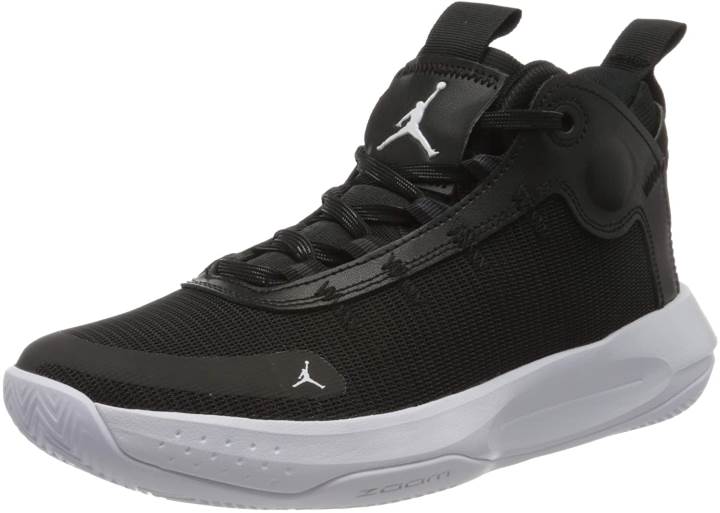 Stand out in the court with Jordan Jumpman 2020 that is considered the best basketball traction shoes one can ever own. They are famous for their lightweight and render excellent performance while playing basketball. These shoes have a firm grip and excellent traction. It has good cushioning in the midsole to protect your feet.
Have quick responsiveness with these shoes that have ultimate padding to absorb the maximum shocks during impact. The large zoom air unit renders ultra-light, bouncy, and perfect fit shoes. Designwise, the upper is made up of breathable, light mesh, and the laminations provide full support.
In addition to that, there is a curvature around Achilles' tendons to give support to them and prevent them from any damage. These shoes come with a webbing structure for the midfoot in the midsole; it is responsible for safeguarding your foot during fast speed.
Talking about the traction, these shoes have herringbone tread traction patterns that result in better steadiness and grip. Moreover, the heels of these basketball shoes have grooves in them, and these grooves allow smooth switching during rapid movements.
These shoes serve with excellency and promise high performance owing to herringbone traction and grooved heels. This makes them the most steady and stable shoes for the players that need stability during transitions.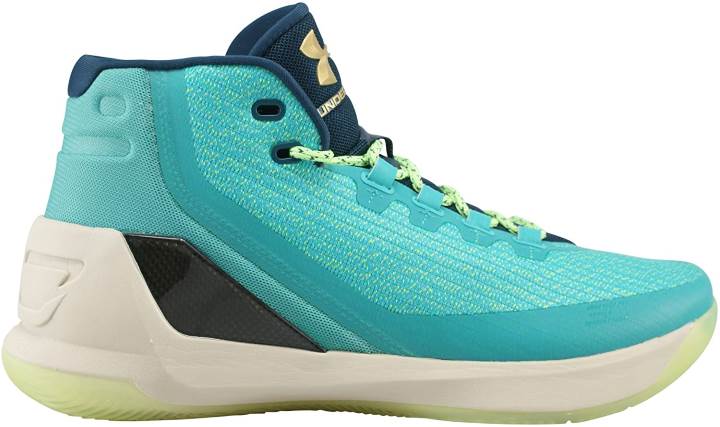 Next comes these graceful looking shoes by Under Armour that provides brilliant traction even on dusty floors. These are the best traction basketball shoes providing excellent gripping on wooden floors. The comfort these shoes provide while you are running in them is unbelievable. Moreover, they can't be just worn in the court but can also be used on a daily basis.
Speaking of the design, these shoes are tailored by keeping contemporary style and comfort in mind. These perfect looking shoes add elegance to your look and make you outshine in the court. These shoes feature a Meta-wing carbon fiber shank that provides excellent stability and support. These shoes provide outstanding fit and comfort through its quality midsole cushioning.
In addition to that, the shoes have charged cushioning for the foot; these cushions absorb the most shocks and, in return, give you bounce and quick responsiveness. Talking about the traction, these shoes provide ultimate traction owing to the herringbone tread pattern.
Furthermore, these shoes feature ortholite insole, threadbare high tensile thread in the making of them, which gives comfort and durability. The anafoam used in these shoe mold amazingly according to your foot's shape to provide you with the ultimate support. The padded tongue of these shoes takes extra of your feet.
Overall, Under Armor Curry 3 is a good purchase due to its herringbone traction and its ultimate comfort. It provides extra stability with its Meta-wing carbon fiber shanks and can also be used on a daily basis without getting your feet hurt.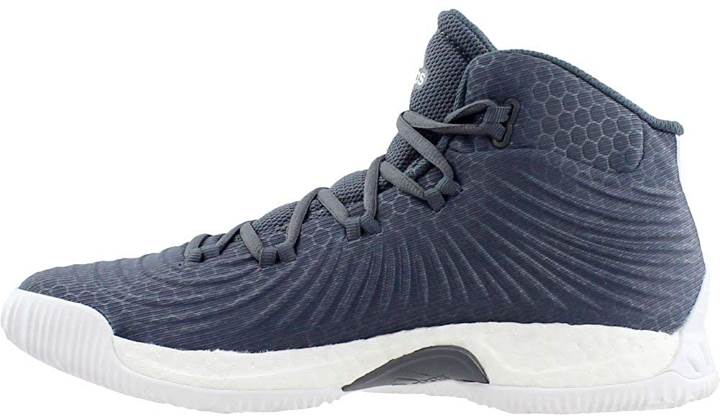 Adidas has never failed its customer when it comes to high quality. These shoes feature a mesh upper, which is soft as a feather and provides supreme comfort to the dorsum of the foot. It has a boost setup that ensures excellent impact absorption, quick response, and bounce.
Talking about the traction, it provides a very sticky grip owing to its unique rubber traction pattern. These shoes are very grippy on clean floors; however, they might lose a tiny bit of traction on dusty floors. For that matter, you need to wipe the outsole continually so it doesn't lose its grip.
Additionally, these shoes provide a comfy unhindered movement while you wear them due to their fuse mesh upper so your feet don't feel tight. Owing to the lacing provided by this footwear, you can adjust the tightness while lacing up. Also, the padded tongue offers a comfortable time and care to the dorsum of the foot.
Coming to the support, the Torsional plates and a heel counter with a broad base provides exceptional comfort and stability on the floor. This extra support kit provides steady movement in the court and proves excellent during fast paces. Also, these shoes prove impressive during transitioning in the court.
If you are looking for comfy basketball shoes that also provide full support to the heels, forefeet, and upper feet, then these are the right ones.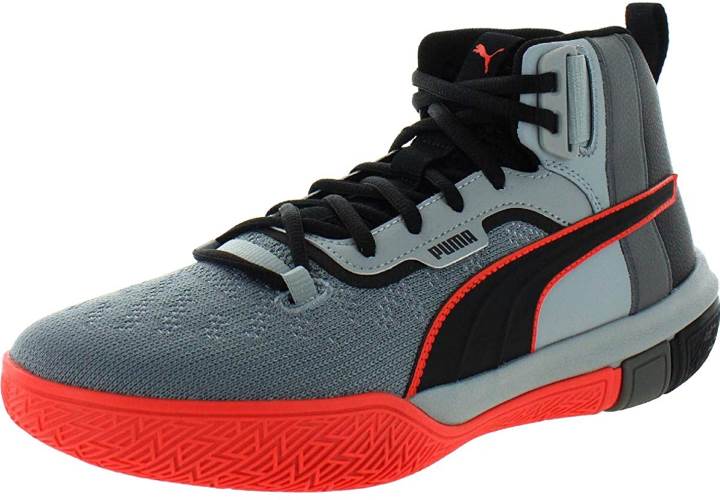 Win the spotlight along with the game wearing leading PUMA Legacy Disrupt basketball shoes. The stunning design and jaw-dropping features make them one of the best traction basketball shoes. Design-wise, this footwear is incredibly lightweight and roomy owing to its knit mesh upper.
The outsole provides a firm grip and traction owing to its high-abrasion rubber material. These mid-top, mid-cut silhouette basketball shoes not only give a classy look but also offer durability and stability on the floor. In addition to that, PUMA Legacy Disrupt basketball shoes have a lace-up closure, which renders desired tightness and stable movement.
The hybrid foam cushioning inside the shoe provides comfort and responsiveness like never before. The ignite foam and NRGY beads render a quick response and great impact protection. This type of cushioning proves beneficial for your feet and leg welfare.
Moreover, the webbing in the forefoot, the lace stays, and the strap at the ankle area provides you with all the support and stability you require from your shoes. In addition to that, the knit mesh upper and the webbing in the forefoot and ankle area makes it fit perfectly on your foot.
Win the show with these stylish yet high-performance shoes by PUMA. The hybrid foaming technology makes them super comfortable and provides ultimate stability. This might be your best shot if you are looking for exceptional comfort, security, and the best traction combine.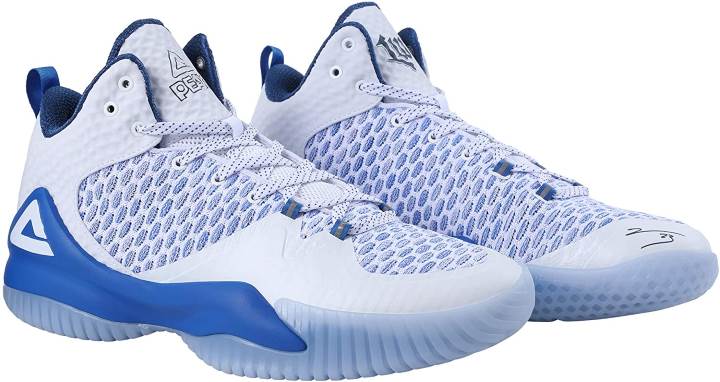 The next from our list is the top-notch PEAKHigh streetball Master with a unique traction system. The thick outsole has unparalleled traction, thus, making it ideal for outdoor basketball games. The thick hard outsole provides ultimate grip and fantastic stability.
Further, the hot-melt technology offers extreme comfort and perfect fitting as soon as you put your feet in them. The aesthetics of these shoes are eye-catching; the assimilated weaving method not only adds elegance but also gives a soft feeling to the skin. The shoe wraps so comfortably around your feet that you can even wear it daily.
You can have strain-free gaming with these shoes owing to the stabilization module present at the forefoot site. This feature provides support to the sideways foot movement and more stability. The chances of getting a sprained ankle are meager due to the technologies employed here.
Coming to the cushioning type, these footwear uses blue Ortholite and EVA foaming formula that makes them ultra-soft and comfortable. Also, this cushioning technology absorbs the most impact and provides extra bounce. Not only that, but this foaming tech also ensures you don't get any sprain from the shock.
Overall, these shoes provide an appreciable outdoor performance owing to its thick hard outsole that renders immense abrasion. The shoes offer supreme comfort and stability due to the EVA and Blue ortholite cushioning at a very affordable price.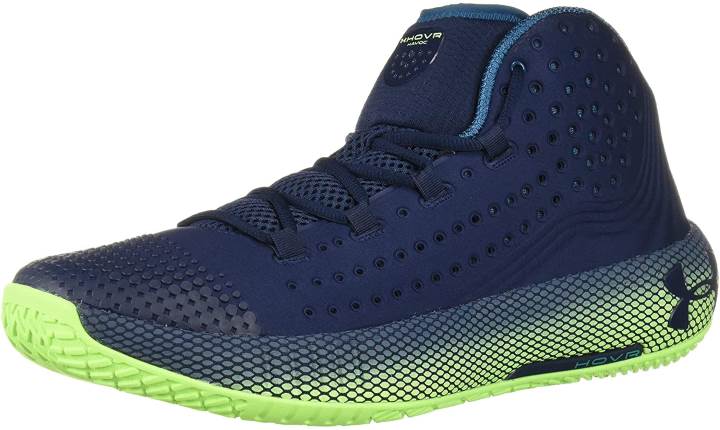 Presenting you the most upscale shoes by Under Armour that is renowned for being the basketball shoes with best traction. The main highlight of these shoes is that they have both circular and herringbone-patterned traction underneath. This combination of 2 traction styles makes them the most stable and adhering shoes ever.
Speaking of the design, the upper is made up of molded textiles, thus making it more breathable. The tongue of these shoes is made up of mesh that makes it airy to prevent foot sweating. Moreover, there is full-length cushioning in the midsole that provides full support and bounce.
On the fitting side, the shoes fit true to size and wrap around your feet correctly, providing you comfort and stability. The cushioning and material used in the making of the shoe is perfect and impressive. The lacing system and the lockdown that the shoe provides is very satisfying.
What makes it stand out is the "zero gravity feel" technology. This technology makes these shoes as light as air. These shoes also have TPU shanks for the midfoot, providing lateral stability. Tractionwise, the shoes have rubber outsoles with herringbone traction patterns that provide proper security and grip on the floor.
If you are looking for comfortable, breathable, yet sturdy traction shoes, then Under Armour Hovr Havoc 2 is your best bet. These shoes are affordable and lightweight due to their zero-gravity technology. The Herringbone rubber outsole provides the best traction, so you don't want to miss them.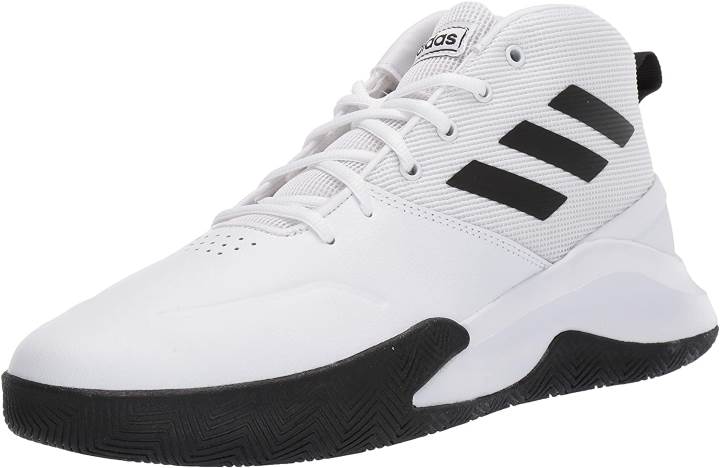 You can now perform the fastest breaks and jump shots with the best traction shoes for basketball in 2023 called Ownthegame by Adidas. Like before, Adidas owns the reputation of producing the best products; these shoes are nothing less. The premium quality tailoring with suede and leather material makes them look classy.
These shoes are mid-cut and come with two region herringbone traction; the rubber sole combined with traction provides the best grip on the floor. Talking about the design, these shoes are grace combined with comfort. The midsole is ultra-soft with its premium cushioning, and the sockliner makes it even snugger.
Digging more into the grip and stability, the dual-zone traction gives several benefits. This traction is best for the movement across the court in any direction. Moreover, the Adiwear rubber outsole provides maximum adherence with the floor, thus making them non-slip,
Now moving to the cushioning, The midsole foaming renders impact protection and foot safety during layups. The foaming types used in these shoes are cloud foam for the midsole and Ortholite for the sockliner. This type of cushioning provides comfort and absorbs maximum socks.
Overall, this is an excellent purchase for those that want to have the best shoes with fantastic traction and premium quality, that too, at a very affordable price. These shoes provide dual-zone traction with extreme comfort using ortholite and cloud foam tech to make it the best purchase.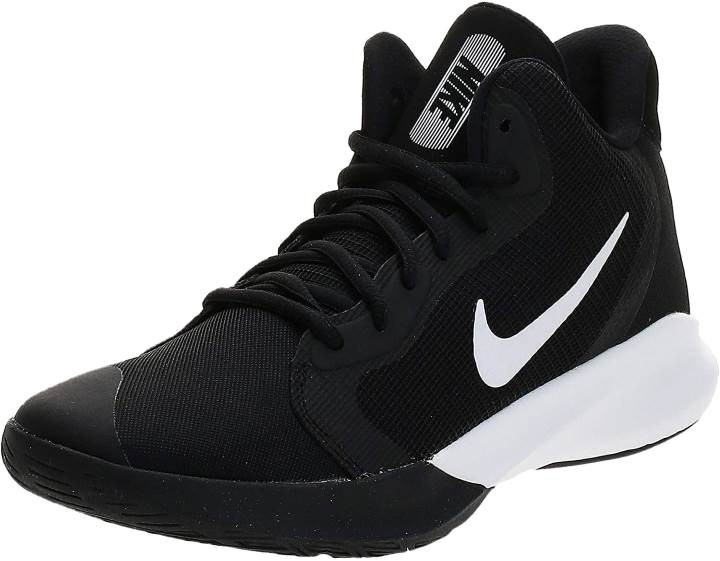 The last one on our list is the spectacular Nike Precision 3 basketball shoes that steal the limelight with its jaw-dropping traction. These shoes are amongst the best basketball shoes for traction as they provide grip to the floor that is unsurpassable. They feature a mid-top height and padded collars that wrap comfy around your ankles.
There are more added eyelets that provide convenient fitting to the user. What makes the traction best is the multi-directional circular pattern on a rubber outsole that provides a firm grip and tremendous traction. It provides multiple combinations of foaming that is made with premium quality material provides the best comfort.
Moreover, the step-in of these shoes is super convenient with the laced enclosure. In addition to that, these shoes are incredibly lightweight and don't feel like weighing down. Also, they come in a variety of colors, and the design is very trendy and fashionable to be worn daily.
These shoes are everyone's favorite because they are lightweight, but the outsole is sturdy and durable. The traction system doesn't require regular cleaning, and the cushioning in the midsole also proves to be very durable.
Overall, these shoes are a great value for money, as the lightweight, durable outsole and the multi-directional circular traction pattern makes them outshine. Moreover, the midsole provides guaranteed support, making them worth buying.
Guide to Choosing The Basketball Shoes With Best Traction
Playing basketball requires a whole lot of energy, aggression, shooting, speed, jumps, and a lot of leg movements. A lot of thought process goes into making basketball shoes. Manufacturers have all the details about the game while they are manufacturing shoes for the players.
Although these shoes might not look any different from regular shoes in reality, there are many intricacies about it. The significant achievement of these shoes is to perform with excellence, give comfort to the user, and look cool. Even a single feature missing out in a shoe might lead to a problematic experience.
It doesn't matter if you are a shooter, an offender or defender, or a guard; there is no compromise on the quality and comfort. An athlete knows his/her speed, power, and playing manner, choosing shoes that can do wonders in a game.
A typical basketball shoe has an upper, midsole, and outsole. All these parts play a pivotal role and determine the quality. The detailing to speculate on while buying basketball shoes are as follow;
Height of the Upper Covering:
The first thing to reflect upon is the height of the upper portion of your shoe. The height depends upon what kind of support you want for your foot. The upper part of the shoe comes in 3 different sizes: high, medium, and low.
The high upper section is ideal for stability as it provides extra support to your ankles. The high top has more lamination than the other sizes as it covers the ankles to give them support. Due to these additional layers, the shoe might weigh a little more.
Then comes the medium height upper-sole; this type provides proper enclosure and support to the ankles. Though it allows for excellent coverage to the ankles, it is less than that of high upper sole shoes. This height serves a likable flexible movement.
After that comes the low height sole, ideal for fast running and the quick reaction thus, more favored by the guards. Although such sole height renders little support to ankles, they can offer high speed.
Protection of the Upper Part:
The protection of the upper section of the shoe means how you buckle or fasten your shoes. There are several ways of fastening your shoes that include lacing, zipping, and strap fastening. All the styles have their benefits, zipping and strap fastening give extra support to your ankles and require extra layering. However, with these styles, you may notice a slight increase in the weight of your shoes.
The Midsole:
This portion of the basketball shoe plays a crucial role for an athlete as it is where the cushioning for your foot is done. As we all know that basketball requires a lot of leg movement and jumps, so it is necessary to have quality cushioning in your midsole. Without properly padding, your feet and ankles might get damaged.
There is a wide variety of types of foaming for the midsole. Some of the foams are made up of polyurethane, and others are of Ethylene-vinyl-acetate. The former one makes durable foam but weighs more than the later one.
Some of the brands have introduced their cushioning technologies. While playing basketball, you need to constantly run and jump, which puts a lot of pressure on your foot. These paddings are designed to absorb maximum shocks so your toes and heels can bear less strain.
The Outer Sole:
The outsole is an essential part of the shoes as it provides grip and attrition against the ground. While selecting shoes for yourself, make sure it gives excellent grip and traction. The shoes you are buying for playing basketball should not be prone to slipping.
A good traction system on the sole will prevent you from slipping while sporting. Choose a flat and broad sole shoe so that it can provide the right balance during gaming. As the outer sole might wear off with time, so always look for a thick, durable outsole that can bear harder surfaces.
Size:
Brands differ when it comes to the size of your shoe. Your shoe size in one brand might be different from another one. If you are looking for a basketball shoe, be sure that you measure your foot size. It can be quite an inconvenience playing if you are wearing shoes that don't fit properly. Never go for the shoes that are slightly roomy or too tight as it can affect your performance while sporting. Not only that, but wrong-sized shoes can also bring issues to your feet.
Your Position in the Game:
As we all know that there are three positions in the basketball game, all the positions have their specific movements. The players should choose the shoe according to their position. Some of the suitable footwear for them are as follow:
Guards:
Guards are the ones that are running very fast across the court; they are the ones that require the most leg movement. For that purpose, these players need shoes that provide flexible action and a good grip to move quickly from one position to another. The low outsole shoes are more preferable for them.
Forward:
Forwards show aggression in the game, so these players need shoes that weigh a little more. For that matter, high top or outer sole shoes are ideal for them that provide extra coverage and ankle support and come with some weight.
All-around:
An all-around player also needs to move more around the basketball court, so if you are one, then you need mid-length top shoes. These shoes will provide some support to your ankles, and you will have flexibility during quick movement.
Quality Combined with Attraction:
We all know how imperative it is to have the basketball shoes with best traction that stand high in quality. But that doesn't mean your shoes have to look boring to fulfill the top quality requirements. If you are planning on buying basketball shoes, then you must also consider the aesthetic side.
Comfort, combined with aesthetics, will take your sporting experience to another level. Always look for shoes that are in fashion and make you stand out on the court. Bright colored shoes will always make you noticeable, whereas less bright colored shoes always look elegant and classic.
FAQS
How to get more traction on basketball shoes?
To achieve more traction on basketball shoes, all you need to do is, keep the area where the shoes touch the ground clean. The court floor should be cleaned now and then, and it is best to use traction or gel mats.
Does hairspray give more traction to the basketball shoes?
No, it does the contrary because hairspray makes your shoe sole sticky, which attracts dirt; you will only lose your shoe's traction by doing so.
Why are my basketball shoes slippery?
Always remember that the dirt might get stuck in the traction area that makes them slide on the floor. It is recommended to clean your shoes after every use thoroughly.
How do I make my basketball shoes less slippery?
One of the best DIY hack to make your basketball shoes less slippery is to chafe it with sandpaper or a rough surface. This act will make it rough from under that will render enough grip.
What is traction spray?
A traction spray is kind of a spray that makes the shoe a little adhesive to provide a firm grip and more traction on the shoe.
Can we use basketball shoes for daily use?
Basketball shoes can be worn daily owing to their trendy look and a great feature to aid in feet health. The padding and ankles support prove ideal for your feet and provide a lot of comfort. However, using them daily can make them weary and will reduce their life.
Final Thoughts:
We can infer that efficient basketball performance demands the right leg and foot movements. All of that is possible only if you're wearing shoes that provide enough comfort and support. The above list consists of the best traction shoes for basketball. These shoes are designed by some of the leading brands that not only take care of your feet's health but also keep aesthetics in mind. All of these shoes are made with top-notch material and have high-ranking cushion padding.
Among these shoes, our top picks are;
I hope this article proves to be a facilitative source in the hunt for basketball's best traction shoes. Moreover, we hope your money goes on the right product to make your basketball play out of the world.