Adidas is one of the most renowned sports brands that is loved by all. This includes athletes or sportspeople and normal people who love to dress up in style while playing sports. Adidas has a huge variety of sports goods available for men. Women and even children.
In short, any Adidas outlet is a heaven for all the sports lovers out there. It caters to all the sportspersons' needs, ranging from comfortable shoes, enjoyable clothing to water bottles, wrist bands, and anything else that a sportsperson might need of. Adidas has a huge variety of sports shoes to cater to every sport.
Likewise, there is a massive range of basketball shoes that you can find at Adidas. They have different features, colors, price ranges, and designs.
You have a lot to choose from if you are looking forward to basketball shoes from Adidas. To make this hectic decision easy for you, we have lined up the 10 best basketball shoes by Adidas.
Best Adidas Basketball Shoes
IMAGE
PRODUCT
FEATURES
Adidas Men's N3xt L3v3l
Imported shoes
Synthetic material
Laceless design
Unique and attractive design
Check Price
Adidas Men's Dame 6 Spitfire
Synthetic and breathable material
Comfortable
Lightweight cushioning
Check Price
Adidas Unisex Pro Model 2G Sneaker
Comfortable design
Good fit.
Good quality
Glossy finish
Easy to clean
Check Price
Adidas Men's Harden Vol. 4
Rubber sole provides traction
Comfortable shoes
Good grip
Durable
Check Price
Adidas Men's Dame 5
Good traction
Lace closure
Comfortable
Attractive design
Lots of color options
Check Price
Adidas Harden Vol. 3
Good traction.
Many color options
Unique and attractive design
Responsive midsole
Check Price
Adidas Marquee Boost Shoes
Impressive design.
100% synthetic fibers only
Breathable fabric avoids excessive sweating.
Check Price
Adidas Men's D.o.n. Issue
Comfortable experience
Stylish design
Extra cushioned sole to enhance comfort
Good grip
Check Price
Adidas Men's Harden Step back
Great value for money
Good looking shoes
Provides a fair amount of grip
Check Price
Adidas Own the Game
Good traction
Ideal for wide feet
Good value for money
Check Price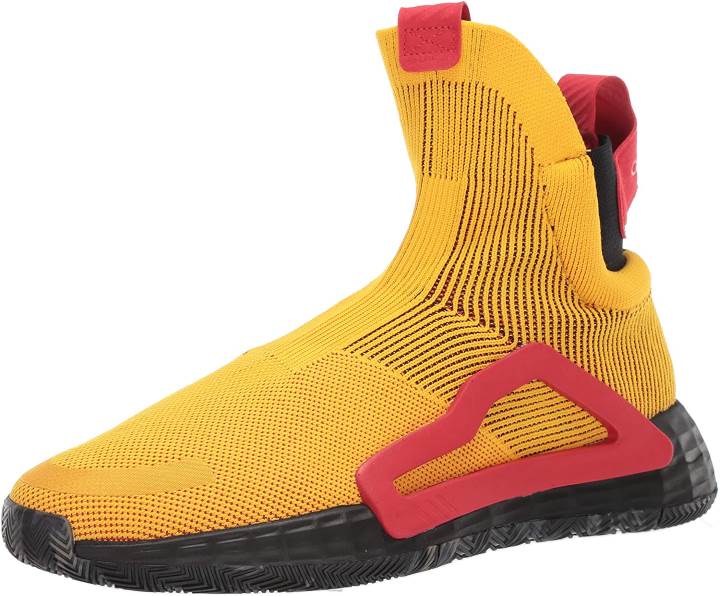 Adidas Men's next level basketball shoes are sure of another level and receive excellent feedback from its users. This is also one of my favorite basketball shoes, and there are several reasons why it tops our list of 10 best basketball shoes by Adidas. Firstly.
It has a unique and impressive design that can easily attract attention even from non-players. Wearing these shoes means you can play in style as it comes in three beautiful colors: olive, carrot, pink, and brown. The next level basketball shoes are knit using synthetic material even for the sole.
The other thing which makes it the player's favorite is that it has a laceless design, so you don't have to worry about tying your shoelaces now and then for a perfect fit.
Furthermore, the design has a snug feel to it, making it very comfortable and easy to wear. As it's a laceless design, the shoe is engineered to provide perfect fitted support that enhances speed while playing.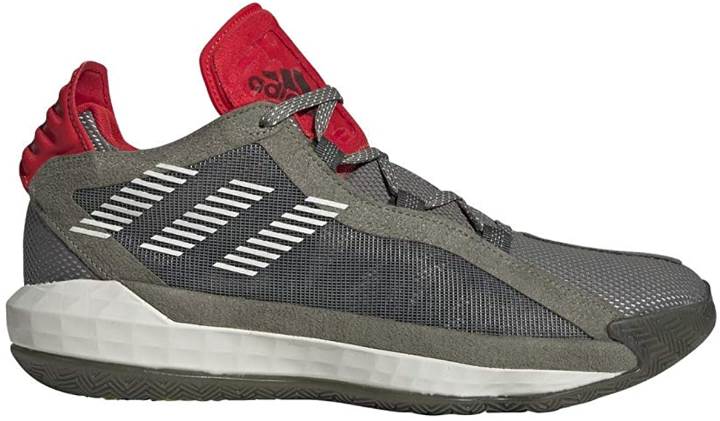 Adidas Men's Dame 6 spitfire are basketball shoes with a simple yet comfortable design to make basketball enjoyable for the players. It comes in just one color, which is grey with red finishes in some areas. If you love grey and prefer to style in sober colors, this is the basketball shoes you should choose.
The shoes are made up of synthetic and breathable material to enjoy wearing the shoes even for longer periods. A plus point is that these shoes are lightweight because they have been cushioned with super light strike material. Spitfire will feel light on your feet and will help increase your speed on the field. Spitfire has a sock-like fit, which makes them extra comfortable.
If you are an athlete who often faces foot-related problems, you should think about grabbing these shoes for playing basketball.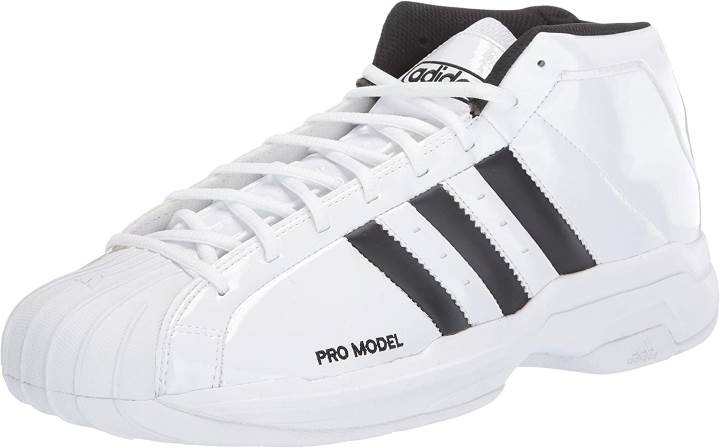 Adidas Pro Model 2G sneakers are the unisex basketball shoes and come in 2 colors, which are black and white. The shoes are made up of 100% non-synthetic fibers, so they are definitely not for the players who have allergies to fibers or other materials.
The pro model has a comfortable design with a glossy finish, which gives it a premium feel. Its comfortable design also provides a great fit for your feet. The material used in its manufacturing makes these shoes very easy to clean compared to other basketball shoes made up of leather.
These shoes also have a thick rubber slip, which also prevents the players from slipping while playing during a match. I liked the shoes because these shoes have dummy laces, so you don't have to worry about tying your shoelaces during a match.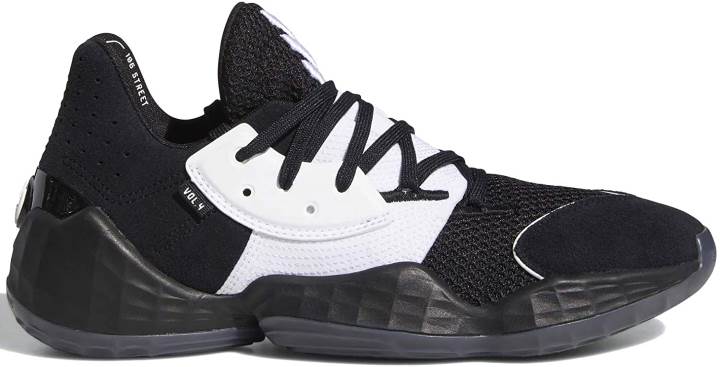 If you are looking for style and comfort in a single pair of basketball shoes, look no further. Adidas Men's Harden Volume 4 is the basketball shoes you should choose. These shoes have a trendy design, which is a unique selling feature of these shoes.
Harden Volume 4 basketball shoes come in 6 fashionable colors, so they have something to cater to everyone's style. The shoes are comfortable to wear because of the adequate cushioning done inside the shoes. The sock liner is soft and attaches to the foot to provide extra comfort to the players.
The rubber sole is not thick, but it provides fairly good traction to the players and prevents any possible foot injury. The upper part of the shoes is made up of synthetic material to withstand wear and tire.
The synthetic upper part of the shoes also makes them more durable, an ideal choice if you have to go to long practice sessions.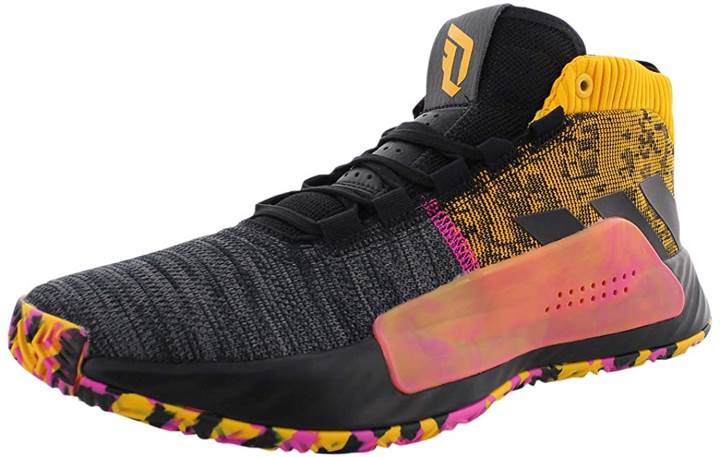 Dame 5 is also one of Adida's most fashionable shoes that hit the market. It has a trendy design that is available in 13 different colors to cater to everyone's tastes. So. If you are a basketball player who wants to play in style, then these shoes are the ones you should cop.
The design includes padded webbing inside the shoe, which gives it a superior feel and makes it extra comfortable to wear. Dame 5 has knitted sock-like support, which provides backing to the ankle and keeps the shoe snug.
The design has a lace closure, which means it saves you from the hassle of tying knots. The sole of the shoe has midsole cushioning for extra grip and good traction.
Dame 5 is imported, so you don't have to worry about the quality of these shoes. The fact that Adidas' shoes are all you need to know about the quality of these shoes.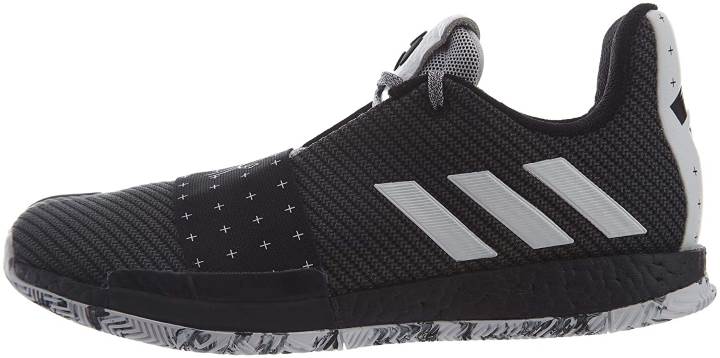 Harden volume 3 is an all-rounder shoe and has almost the qualities to become a player's go-to choice. Like Dame 5, Harden Volume 3 is also available in 13 different colors and has a very fashionable design bound to catch everyone's attention at the field.
These shoes provide great traction; however, you may need to try them on once or twice to experience its true nature of traction. Harden shoes are well built and provide great comfort to the players. The shoe's midsole provides a boost to the players who may enable them to improve their stamina while playing.
These basketball shoes are also made up of synthetic material to minimize the chance of an allergy. Moreover, these shoes provide a great fit for people with narrow or slim feet. You may experience some fitting issues with Harden 5 if you have wide feet.
Elastic lace closure in the shoes provides support where needed to enjoy while playing on the field.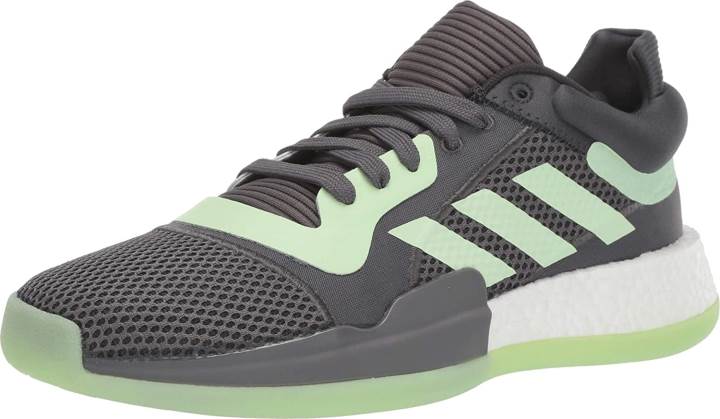 The Marquee boost shoes are also one of the stylish shoes launched by Adidas. They have an impressive design and are available in 7 different colors. The Marquee boost shoes are made up of 100% synthetic fibers only.
Moreover, the air mesh and textile upper have padded cushioning, which provides a comfortable experience. The air mesh is also made up of breathable fabric so that the players can easily wear these shoes for a longer period of time and prevents the feet from excessive sweating.
The rubber sole provides a boost to the player while playing, and the shoes have a wide toe shape to fit perfectly on people with wide feet.
Moreover, there are also pronounced cushion ridges in the lining of the heel that provides excellent fitting. Like most of the shoes we reviewed, Marquee boost also has a lace closure, making wearing these shoes easy.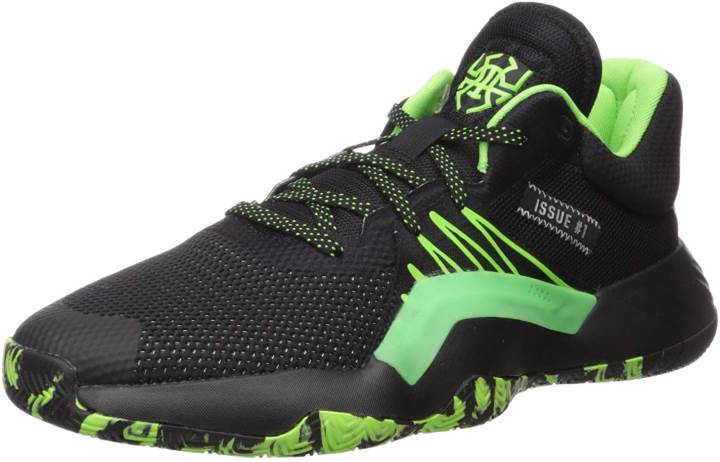 Men's D.o.n shoes have a very stylish design to offer to please their buyers. These shoes are available in just 4 different colors, but the stylish design makes it a hot favorite, especially amongst kids and youngsters.
The spider web inspired details on the upper part of the shoe and colors are bound to catch the customer's eye. These are light in weight, which gives an added advantage of increased stamina to the player wearing them. The shoes are made up of synthetic material, and even the sole is manufactured using only synthetic fibers.
The sole is lined up with extra cushioning to provide enhanced comfort and flexibility while playing basketball. The extra cushioning makes these shoes one of the most comfortable basketball shoes introduced by Adidas. Men's D.o.n shoes also have a lace closure design to provide the right fit without the worry of tying the laces.
Adidas has introduced a multidirectional herringbone pattern outsole for these shoes, which provides an impressive grip between the ground and the shoes.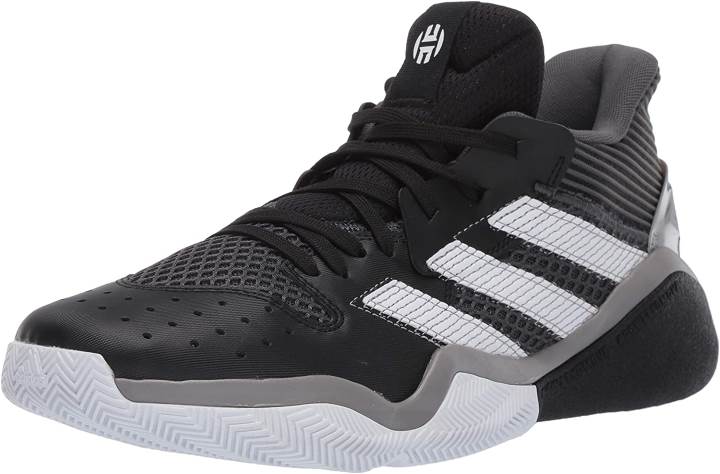 Adidas Men's harden step back shoes are the shoes for people who have a low budget for basketball shoes. They prove to be an overall good option for people looking to spend under $30 on a new pair of basketball shoes.
Regardless of their price, Harden step back are some pretty good looking shoes and are available in 8 color options. They have a simple yet elegant design that any basketball player would love to get their hands on. The shoes and sole are made up of synthetic fibers to provide good comfort to the players.
The step back shoes are low-cut shoes, which makes them a very versatile choice. The shoes have a heavy built with good foot support and a sturdy heel to provide elevation while playing. The design also has a lace closure, which is usually hard to find in low priced basketball shoes offered by big brands.
The outer sole has ridges underneath it, which will prevent the player from slipping while in action.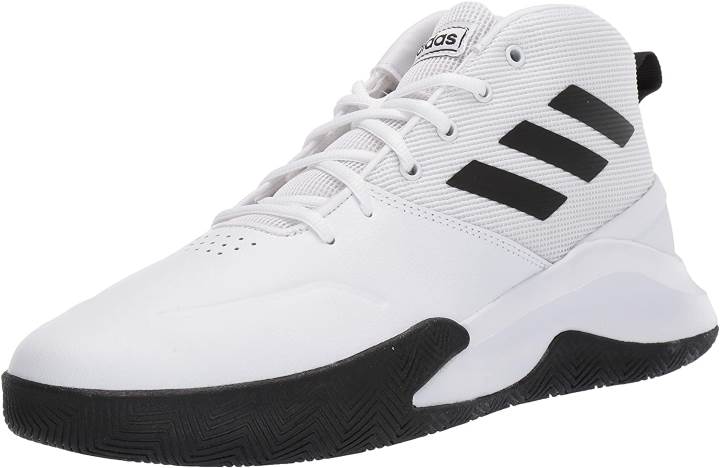 If you have wide feet and are tired of spending so much money on your basketball shoes, then Adidas owns the game is the solution you are looking for. They are branded, so you don't have to worry much about the quality, plus they are available at a great affordable price of less than $50.
As far as the design is concerned to own the game, shoes are stiff looking shoes and are made up of a semi-soft type of plastic instead of leather. The shoes are manufactured using 100% non-synthetic fibers, so if you have some allergies to non-synthetic fibers, don't opt for these shoes.
Adidas owns the game is available in just two colors red, black, and black white. So, you don't choose the colors if you are planning to buy these shoes.
Own the game also has a thick rubber sole that provides great ankle support and traction. Since there is a less variety of shoes for wide people at a reasonable price, they provide great value for the money.
How to choose the best Adidas shoes?
Adidas has definitely outdone itself in identifying, understanding, and fulfilling the needs of the players. Whether its cricket, baseball, or any other gym Adidas has the right pair of shoes that you can wear with ease.
However, Adidas has so many impressive options available that it's still hard to decide which one is the best for you. Buying a perfect shoe from any brand is also difficult because not every shoe is for everyone.
Shoe brands such as Adidas carefully tailor each of their products by having a vision of their customer's demand. Some shoes may be designed for people with narrow feet, but you may regret your decision to buy those shoes if you have wide feet.
To save you from such misery, we will further simplify this task for you by listing out the features you should look into before deciding which of the Adidas shoe will be best suited for you.
Decide your budget.
The first and the most important thing to consider is to know your budget. Knowing how many greens you have to spend on your shoes narrows down your research in the right direction. It also saves you from losing your heart to the more desirable and expensive pair of shoes.
If you haven't decided on your budget, you may survey the whole shop in vain and waste your precious time. Moreover, if you have decided on a budget, a sales person will have the impression that you are a potential buyer instead of a window shopper; hence, he will try his best to please you.
Your feet structure
Some shoes by Adidas have a narrow fit, which is best for people with thin feet. Some shoes have a slightly loose fit to cater to people with wide feet. Therefore, when the salesperson shows you the different variety of shoes, always ask for wide fit shoes if you have wide feet.
Secondly, always try on your shoes before buying them to make sure they are the right fit for you. Some people have big toes, so they should also try their shoes to be certain that their toes are not stuffed inside the shoes, and there is ample space for them. Some athletes face feet injury very easily as they have fragile bones.
Such people should always ask for shoes with a cushioned sole to protect their feet against any injury. Some Adidas shoes are lightweight, and some are heavyweight, both of them have different advantages, A lightweight shoe improves your stamina, and a heavyweight shoe prevents you from injury.
Decide on which one you prefer before choosing a particular shoe.
Fashionable or simple design?
Some shoes by Adidas have very trendy and fashionable designs and are available in many bright colors. If you like to have all eyes on you while you play on the field, you should ask for stylish designs that meet your budget.
However, if you are a sober soul and prefer colors like grey, black, and white, then you clearly specify your color preference to the salesperson. This will save your time and their time as well. Some designs launched by Adidas are available in vibrant colors only, so I might want to look into your options for that.
Also, some people have a particular color preference. They may consider that their favorite color or consider it brings them luck while playing. Either way, it's wise to specify the color to your salesperson to narrow down your search.
Lace closure
Some athletes like me do not prefer tying the shoelaces, mostly because it's a hassle. Secondly, if the shoelaces suddenly open during a match, you may end up tripping on the floor and getting an injury.
Laces should not define the fitting of the shoes. The shoes should fit the feet without having to tie the laces properly. If you have all these problems, choose a pair that has a lace closure design.
Most low budget shoes do not have a lace closure style; however, Adidas offers some shoes under $50 and have a lace closure design.
Make it a point to speak about this concern from your salesperson to save yourself from the hassle of tying shoelaces in the future.
What your shoes are made of
You need to know that the shoe you are planning to buy is made of. Most shoes by Adidas are made up of 100% synthetic fibers. On the contrary, some shoes are made up of other fibers, which gives a soft plastic-like feel to the shoes.
Most products that are affordable may not be manufactured with 100% synthetic fibers. Most people have certain allergies. If you don't know what your shoes are made of, you may aggravate your allergy. Plastic like soft material is often glossy and may give a unique look to your shoes.
Most athletes prefer leather material over any other fiber, so they will not compensate for any other material other than leather. Hence, if you don't have any skin condition or allergy, you have a wide range to choose from. But, if you have sensitive skin, it is advisable to inquire about the shoe manufacturing and buy it only if it's made up of 100% synthetic fibers.
Moreover, some shoes are made up of material that doesn't allow your skin to breathe, which may cause skin conditions such as eczema, etc. If you choose a brand to cater to your needs, make sure to choose the product that is not hard on your skin or makes practice sessions difficult for you.
If a material suffocates your skin, you may experience excessive sweating, which causes itching on your feet. This will distract you while playing and negatively impact your overall performance. Hence, always look for breathable and comfortable shoes to save your money from going down the drain.
Durability
I am certain every buyer planning to buy a shoe is hoping for the shoes' durable shoes. However, the durability of a shoe depends on many factors. A shoe with a thick rubber sole might be able to withstand wear and tear much more efficiently.
On the other hand, shoes with a fine rubber sole may get exhausted easily. If you are an athlete who loves to practice for long hours in the daytime, prefer to buy shoes with a thick rubber sole so that your pair of shoes last long. If you want shoes for casual play, then you might even bag a shoe with a thin sole.
Conclusion
I hope that the features mentioned above will surely save your time and money. It will also help you to grab the right pair of Adidas shoes that come within your budget. Alit so, matches your style and fulfills all your wishes for a perfect shoe.