The ambit of freedom for the cheerleaders is not wide in basketball. They have to adhere to specific rules like the professional basketball players. These gorgeous ladies have to keep in check their weight, dance moves, and so many other things, but the obligation at the top of the summit is not to have any contact with the players, and even a small chat is forbidden, but as they say, "rules are meant to be broke." Let me tell you why the basketball associations are so strict on this, and also allow me to inform you about the instances when these rules were shattered.
Can Basketball players date cheerleaders?
Basketball fans aren't allowed to date cheerleaders as it will put them in trouble while making the cheerleaders to lose their living.
Why don't basketball players date cheerleaders?
We don't often see this because of the prohibition placed on the meeting of cheerleaders and players. The chief reason for this is the reputation of the basketball teams. They want to avoid controversies at any time and save their image from tarnishing. Most basketball players are married or have partners; such a risk will negatively portray the stars and the team in public.
The second reason is the cheerleaders' wages; they are paid peanuts (source) compared to what the players and the teams generate while they dance to please the masses. This pay gap between them and basketball players is another underlying reason they are not allowed to mix because let us not deny the class conflicts in this capitalist world.
Have there been instances where basketball players dated cheerleaders?
Yes! Despite the strict rules basketball players have dated cheerleaders. The love stories from this origination don't really go well and the strict rules of basketball associations are thus justified and a perfect example for this is of the NBA star Dwight Howard.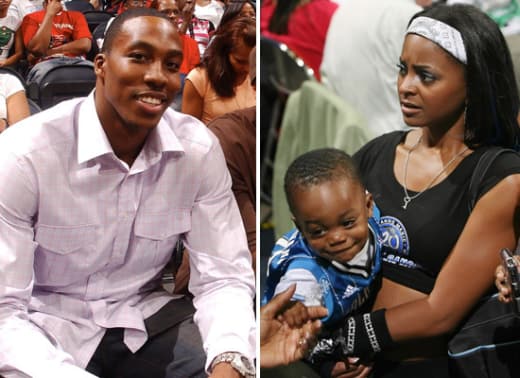 The avid NBA fans can not forget the famous controversy caused by Dwight Howard and Royce Reed, which escalated into child custody issues and child abuse allegations.
Royce performed as a Miami Heat and Orlando Magic squad dancer, where she met Dwight Howard. The two of them started dating and had a son, Braylon, on November 18, 2007. The actual meaning of their relationship has mainly stayed unknown.
Do the cheerleaders lure the wealthy basketball players into relationships?
The basketball associations do their best to avoid such a circumstance, but it has occurred, but blaming the cheerleaders for it is a half-baked assumption. The basketball players that everyone idolizes are not as angelic as they seem.
Royce Reed got a lot of hate and negative publicity because of the scandal between her and Dwight Howard, but Dwight wasn't a saint. He alleged that he has had illicit relationships and had five children out of wedlock with five different women and abortion (source).
Has there been a successful relationship between a cheerleader and a basketball player?
Yes! This story of the failed NBA prodigy Jimmer Fredette and Whitney Wonnacott is a great example. Yes, it is not the case of a highly acclaimed superstar, but it is nevertheless a success story.
They started dating when Jimmer was playing for BYU, and Wonnacott was the team's cheerleader. Fredette was an uprising star, and their engagement in 2011 caught a lot of attention. In 2012 they got married.
Jimmer might not have lived up to his initial promise due to alleged ego issues and unable to get used to the NBA's pace, but he indeed has been a great husband and a great father.
In the 2017 CBA playoffs, he skipped his team's initial playoff game as he took a flight to Denver to be together with his spouse at their child's birth. Upon his comeback to the NBA with Phoenix, his spouse gave birth to his next child on March 28, 2019.
Conclusion:
There are perks and downsides of professional basketball association's strictness on the relationships between the attractive cheerleaders and the striking basketball players.
The perks are saving the image of the brands involved in the game and prominently of the biggest brands, the players. Who are the walking brands?
The downside is that the regulations for the cheerleaders are so strict that they are not given their due wages, and they are not able to talk to the media as even their social media is regulated (source)
Besides these two, there are several good reasons and bad outcomes of having such strict regulations on this issue, and the basketball association must have perfect logic behind all this. Still, we need to highlight how, besides these strict rules, several other underlying basketball laws exploiting the cheerleaders.