Basketball is a sport where the player needs to make sudden turns and jumps to score a goal. Therefore, the comfortability of the basketball shoes and how well they support the ankle and the player's toe while playing is a crucial factor that directly affects a player's performance on the field.
The basketball shoes do not only bear the player's weight, but they also support the ankle from any possible injury during a match. Moreover, basketball shoes also have a cushioned outer and inner sole to comfort the players while playing.
Most players often bruise their ankles easily during matches, and the main cause of this is their shoes. If you are wearing basketball shoes that provide efficient ankle support, then you might not face an ankle injury at all.
If you are a woman who enjoys playing basketball, then as a player wearing the right shoes will reduce the intensity of an injury if you face one.
Since ankle support is an important factor for women basketball players, we thought of reviewing the basketball shoes for women that provide the best ankle support.
Best Women's Basketball Shoes for Ankle Support
To help make things easier for you, we have compiled a list of the best shoes, that are available on the market below: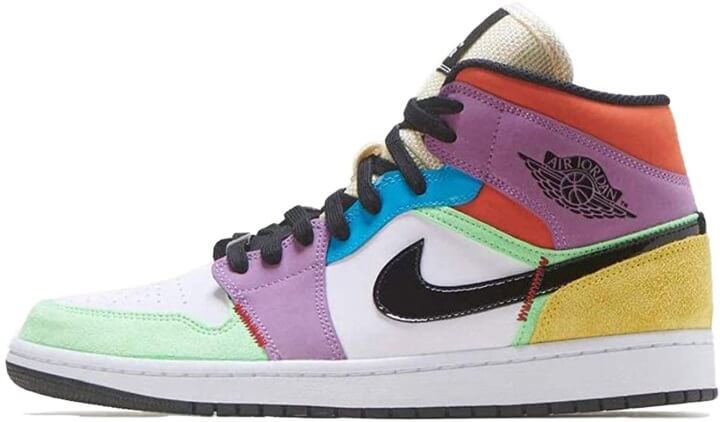 A look at these shoes and you are bound to experience love at first sight. Brands introduce designs like these that make it absolutely irresistible for women not to buy them.
Jordan Women's shoes have an impressive design, but the color combination chosen for these shoes is also very trendy, making this a perfect shoe for women. A beautiful combination of white, black, orange, purple, and green patterns on a white leather base will make any female stand out in the basketball field.
There is a basketball player imprinted on the front to add to the style, scoring a goal. And to top it all up, there is a Nike logo on both sides to give a premium look to the product.
These shoes are manufactured using synthetic leather, and the upper part of the shoe is made up of suede leather, which is rough to touch and does not shine. Jordan Nike Women's shoes have a thick rubber outsole, thick from the shoe's midsole.
The advantage of having a rubber outsole is that it provides stability to your body and support to your ankle. The stability is experienced because of the friction that develops between the rubber sole and the field. This prevents the player from slipping or from having any other injury.
Moreover, the rubber sole is also more prone to withstand the wear and tear in the field, which makes them more durable than the shoes that do not have a rubber outsole.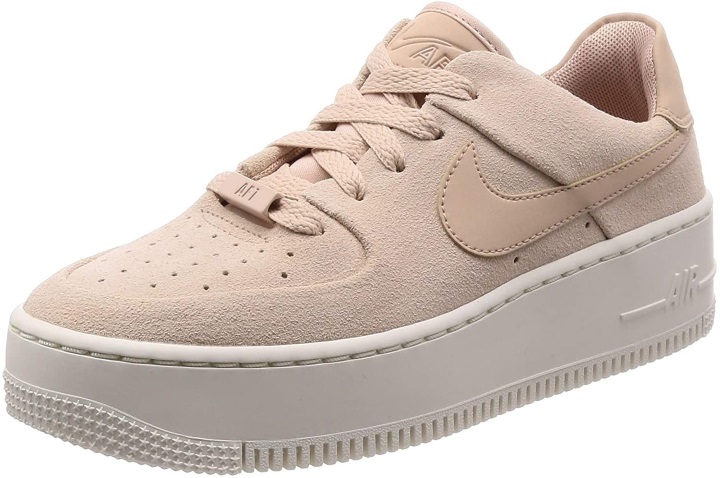 Women love to wear heels, and why not makes them look slim, tall, and stylish. Nike has incorporated the high heel feature in its Air force sage low trainers for women.
The thick rubber sole is the unique feature of these shoes and is enough to set them apart from other basketball shoes. These shoes are an ideal choice for those women players who have a short height. The thick sole will provide the women players with extra height and make it easier for them to score a goal.
The thick sole also provides comfort to your feet and supports your ankle from any possible injury. The sole is made up of foam and includes air cushioning to feel too heavy on your feet. None the fewer shoes with a thick sole look trendy, making it preferable over basketball shoes with relatively less heel.
These shoes have an elegant design, which gives it a rich look and makes them desirable by women in sportspersons. The product is available in 8 beautiful colors, namely black, white, gold, beige, grey, brown, rose gold, and pink, which means they have various colors to satisfy their customers.
The Air force sage low trainers are made up of leather, but the upper part of the shoe is made up of synthetic textiles. Moreover, the outsole of these shoes has a non-marking rubber, which provides grip to the players to dodge the opponents.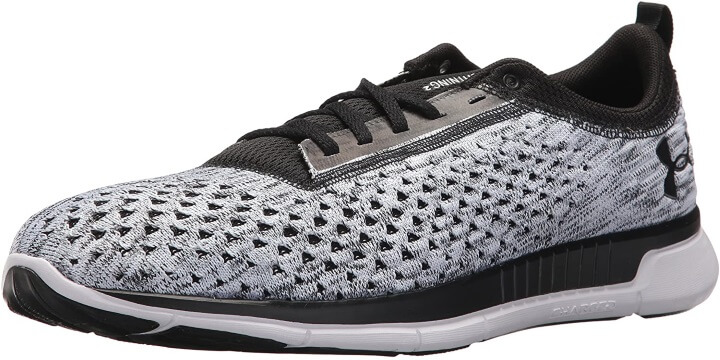 The brand introduces women's HOVR SLK sneakers Under Armor. These sneakers have a unique, simple, and eye-catching design.
Even though the shoes are targeted at women athletes, the simple design dictates that the sneakers are for women who prefer an elegant design. Not every woman is a fashion lover. Keeping this factor in mind, Under Armour have chosen a simple design for their product.
HOVR SLK sneakers are available in 5 different colors: black, white, steel, washed blue, and basil blue. The shoes are lightweight; you will almost feel barefoot wearing them for long practice sessions.
Moreover, they have a very comfortable fit because of inner and outsole cushioning. The inner sole cushioning also provides great ankle support to women while playing or workout.
It keeps addition, and the shoes have a firm external heel counter that provides additional support and keeps your feet locked in space to avoid any possible ankle injury. The fact that these shoes are lightweight will make you feel energized for the whole time you are wearing them and boost your stamina.
The sneakers have been manufactured using 100% textile and synthetic fabric only to provide comfort while playing. The upper part of the shoes is made up of breathable material, which prevents the athletes' feet from suffocating inside the shoes.
Even the tongue of the sneakers has an air mesh construction to ensure enhanced ventilation to the user. The upper part of the shoes is stretchy so that it easily conforms to your feet and bend easily when you move.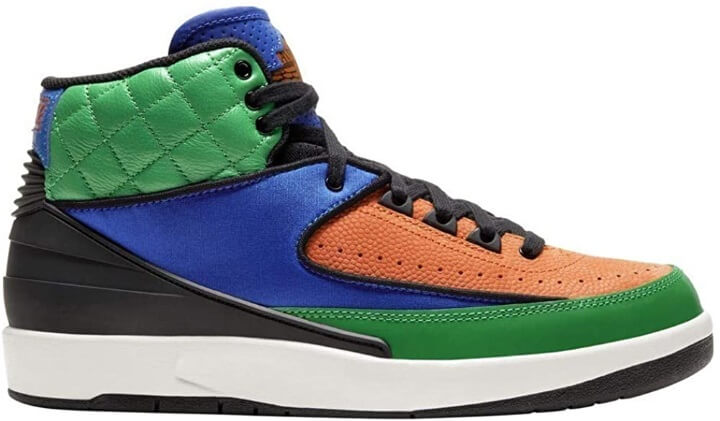 These women's shoes are targeted at all the fashionable athlete women out there who prefer to look gorgeous owing to a fashionable pair of shoes, even in the basketball field.
Nike has displayed an array of bright colors such as blue, red, green, mustard, black in its retro shoes, and arranged them smartly to catch the eye of anyone who takes a look at these shoes. This is why Nike has chosen the name retro for these shoes, which clearly defines these shoes' style.
The shoes have two designs that you can choose from. The first one is a combination of blue, green, and mustard. The second design is a combination of green, mustard, and blue.
Nike has further uplifted the design by using different leather types in its finishing ranging from smooth to perforate to pebble to quilted leathers. The perforated leather adds to the style of the shoes and helps create ventilation for your feet so that your skin can breathe.
The extended lace area also adds to the shoes' style and has a lace closure to save you from the inconvenience of tying laces. Besides, the shoes have a rubber outsole that provides great ankle support to women basketball players. The rubber outsole also makes the shoes durable and prevents them from exhausting easily.
The outer rubber sole has a multi-directional herringbone pattern that provides traction on the field.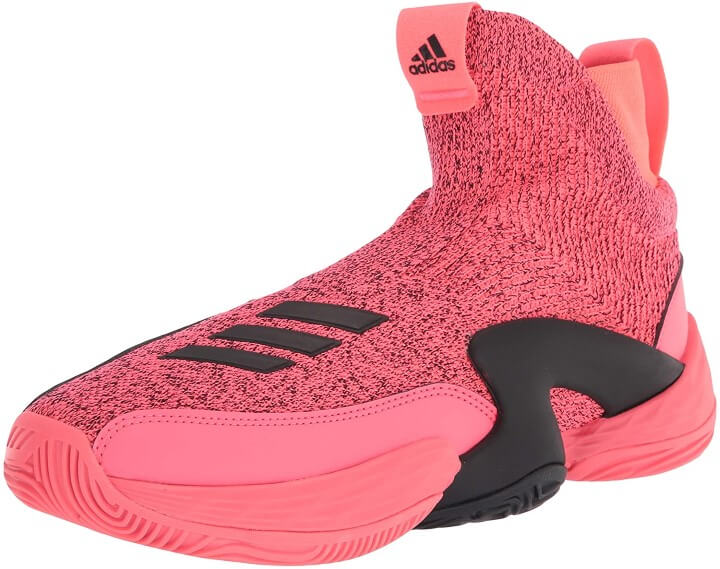 Adidas introduced next level basketball shoes in the year 2020. They are unisex shoes; therefore, they are designed to please the styles of both the genders.
Next level shoes have a boot-like design and have been manufactured using a combination of textile and leather. The smooth leather has been used in an irregular pattern to add a little style to the shoes' overall look.
These shoes come in 3 designs with the same base color, and only the patterned leather is of a different color such as pink, black, and white. These shoes are unisex, but most men may not like wearing pink shoes at all. The shoes are very comfortable to wear and have a narrow fit to provide good shoe support to athletes with narrow feet.
The rubber outsole has an irregular design that creates friction and helps the player maintain a good grip over the surface. The shoes do not have laces, but the shoes' material clings to the skin for a perfect fit.
Next level shoes also have a thick rubber sole, which provides cushioning to the ankle against any possible injury.
I am impressed that many brands have designed the shoes smartly, keeping in mind that they target women athletes. Each pair reviewed above is trendy and stylish in its own unique way.
The above-mentioned shoes are not only stylish but also provide great comfort along with exceptional ankle support. If you are looking for fashionable basketball shoes that provide good ankle support, then consider buying the ones from the above-mentioned list.