Have your kids been sitting in-front of iPad and you want them to indulge their selves into a better and productive activity? If yes, then there can be no other better activity than playing basketball.
I used to think kids must not play basketball at young age because it is a waste of time. However, my assumptions were proved wrong when I came to find basketball can actually help my littles ones to stay active and attentive. So, this was the time I researched why kids should start basketball at a young age and I came across a plenty of useful information.
In this article I am going to share all you need to know about why kids should start basketball at a young age and much more so keep on reading!
Why Kids Should Start Basketball at a Young Age?
I believe that kids should start playing basketball at a young age in order to get good at it. Doing so will help them develop good hand-eye coordination, ball handling skills, and shooting accuracy.
As the kids grow older, they can learn other things like defence, rebounding, passing, and dribbling. In the world of technology and smartphones I would like my kids to be active and socialize rather than remain confined to a certain gadget.
And for that purpose there can be no better option than having them play basketball. The Game is easy and there is no violence involved so it is a good choice for those who want to sharpen motor skills and cognition.
What Is A Suitable Age For Kids To Start Playing Basketball?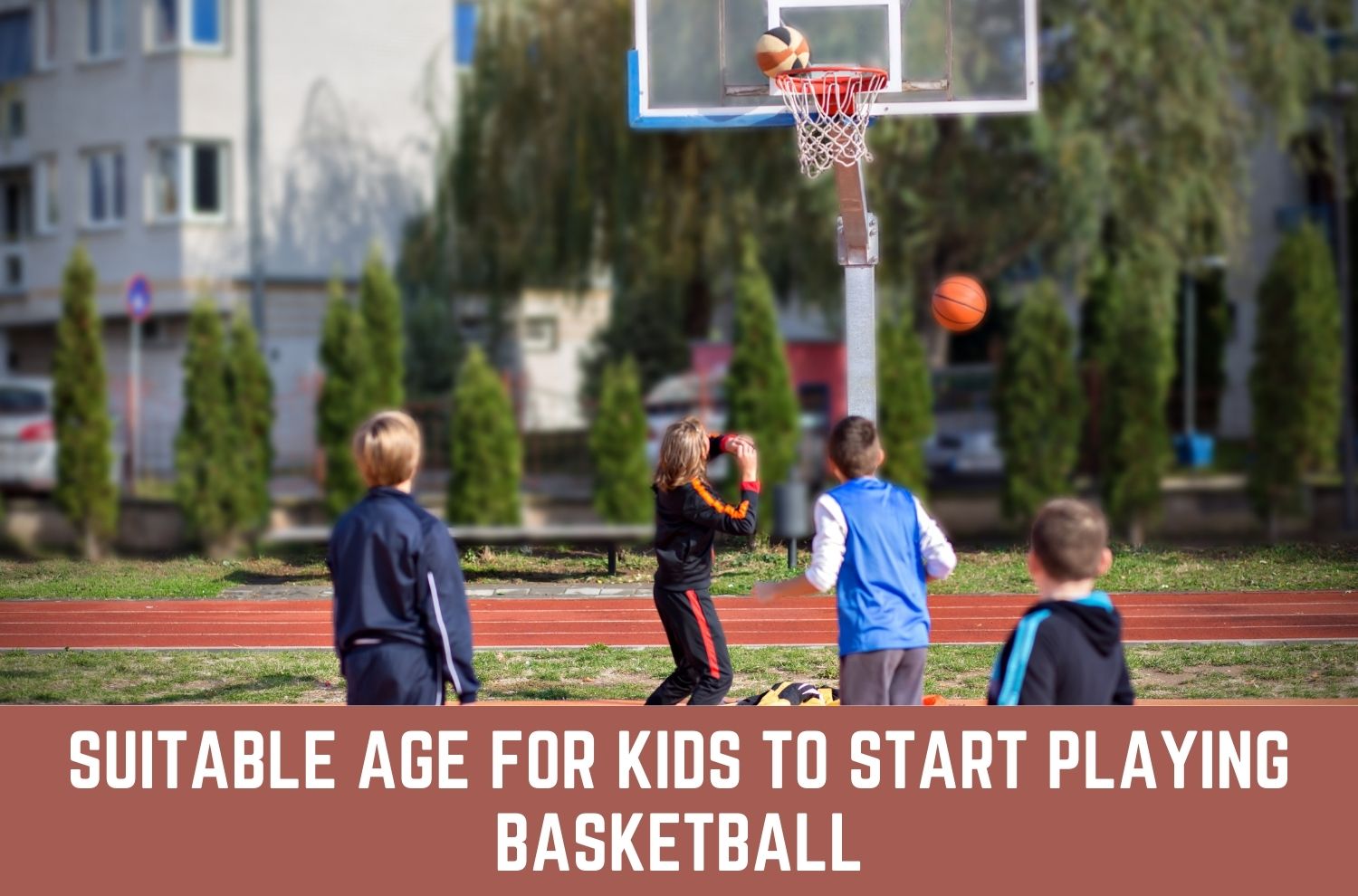 The age at which kids can start playing basketball varies depending on their age and ability. Some kids as young as 3 years old can start playing organized basketball. Older kids, typically around 5 or 6 years old, can start playing competitive basketball.
While many coaches will recommend that kids start playing at a younger age, there are benefits to starting at a later age. In fact, according to a study by the American Academy of Paediatrics, kids who start playing basketball in middle school or high school may actually have a lower risk of developing cardiovascular disease later in life.
What Are The Benefits Of Playing Basketball At A Young Age?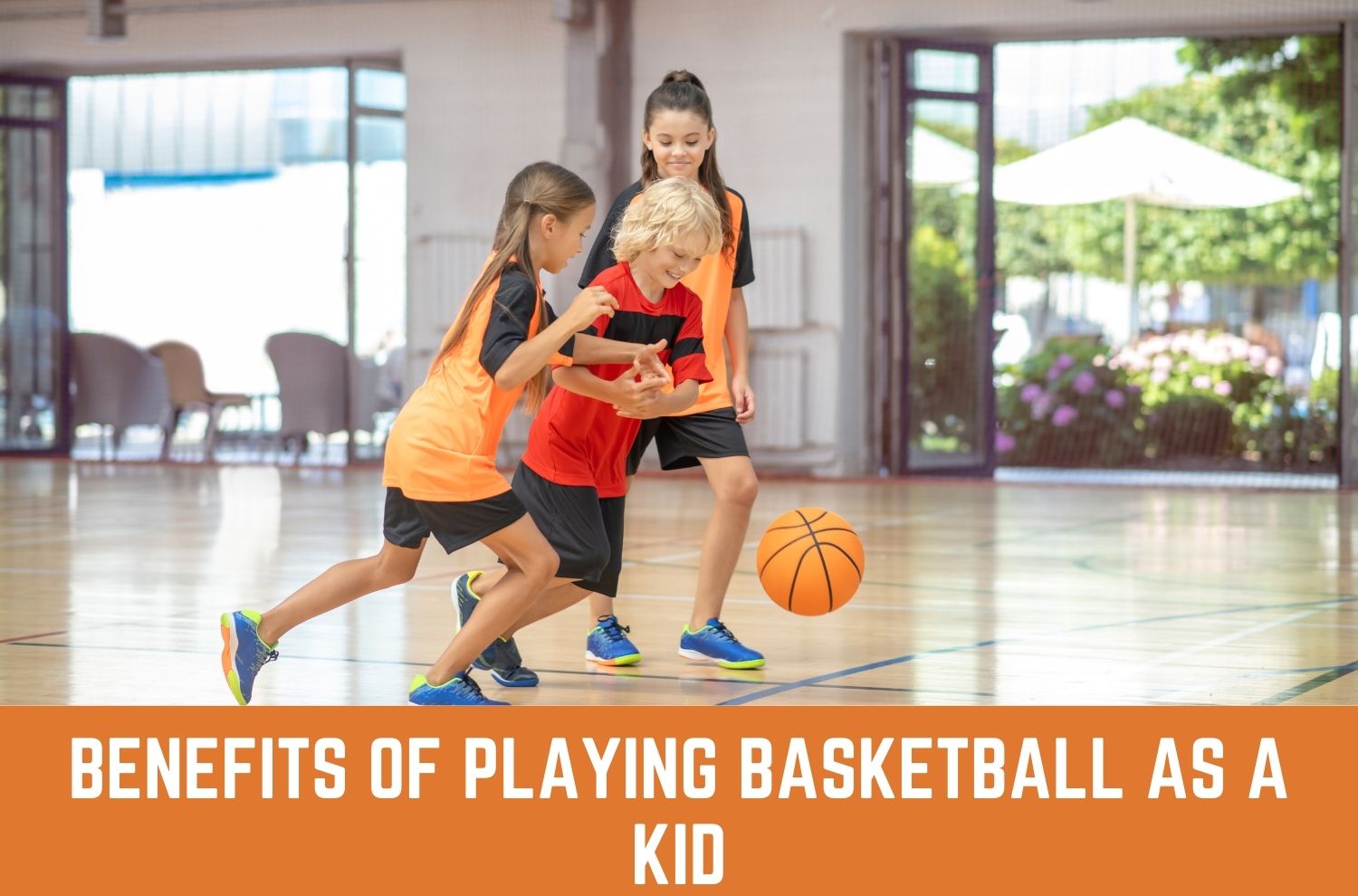 The benefits of playing basketball at a young age are numerous. Some of the most common benefits that I actually noticed in my children are below.
Developing Motor Skills
Motor skills are the ability to move a part of your body. There are many types of motor skills and they can be divided into three categories; physical, intellectual, and social. When your child starts playing basketball, he or she will learn how to control the ball, how to shoot it, and how to dribble it.
They will also learn how to play defence and offense. All these skills are great for kids because they will help them grow up into adults who are more coordinated.
Improving Agility
Agility is the ability to quickly change directions and stop. This is a vital skill that will help kids improve their performance at sports. They will have to do this when they are running on a court and when they are shooting a basketball.
They will learn how to change direction and also how to keep their balance while doing so. They will also learn how to react to the ball when it's coming towards them or when they are in position to shoot it.
Improving Reflexes
Reflexes are quick reactions that you can do when something is happening. This is why reflexes are very important. When your child is playing basketball, he or she will learn how to react when a ball is thrown towards them. They will also learn how to jump and how to catch the ball. All these things are important for kids because they will help them to improve their performance at sports.
Developing Communication Skills
Communication skills are the skills that enable you to communicate with others. This is why communication skills are very important.
When your child plays basketball, he or she will learn how to communicate with other people. They will learn how to talk and how to listen. This is very important for kids because they will need to be able to communicate with other players and coaches when they are playing sports.
Improving Confidence
When you are confident in yourself, you feel good about yourself. You know that you can do something and you know that you can do it well. This confidence can help you do better at sports.
Your child will learn to have this confidence in him or herself when he or she starts playing basketball.
Improves Physical Fitness
Basketball is one of the best sports to improve your younger ones physical fitness. It provides cardiovascular training, and strength training.
These are two of the most important aspects of having a good overall health. The combination of these three factors leads to a healthy body.
What Safety Precautions To Follow While Playing Basketball At A Young Age?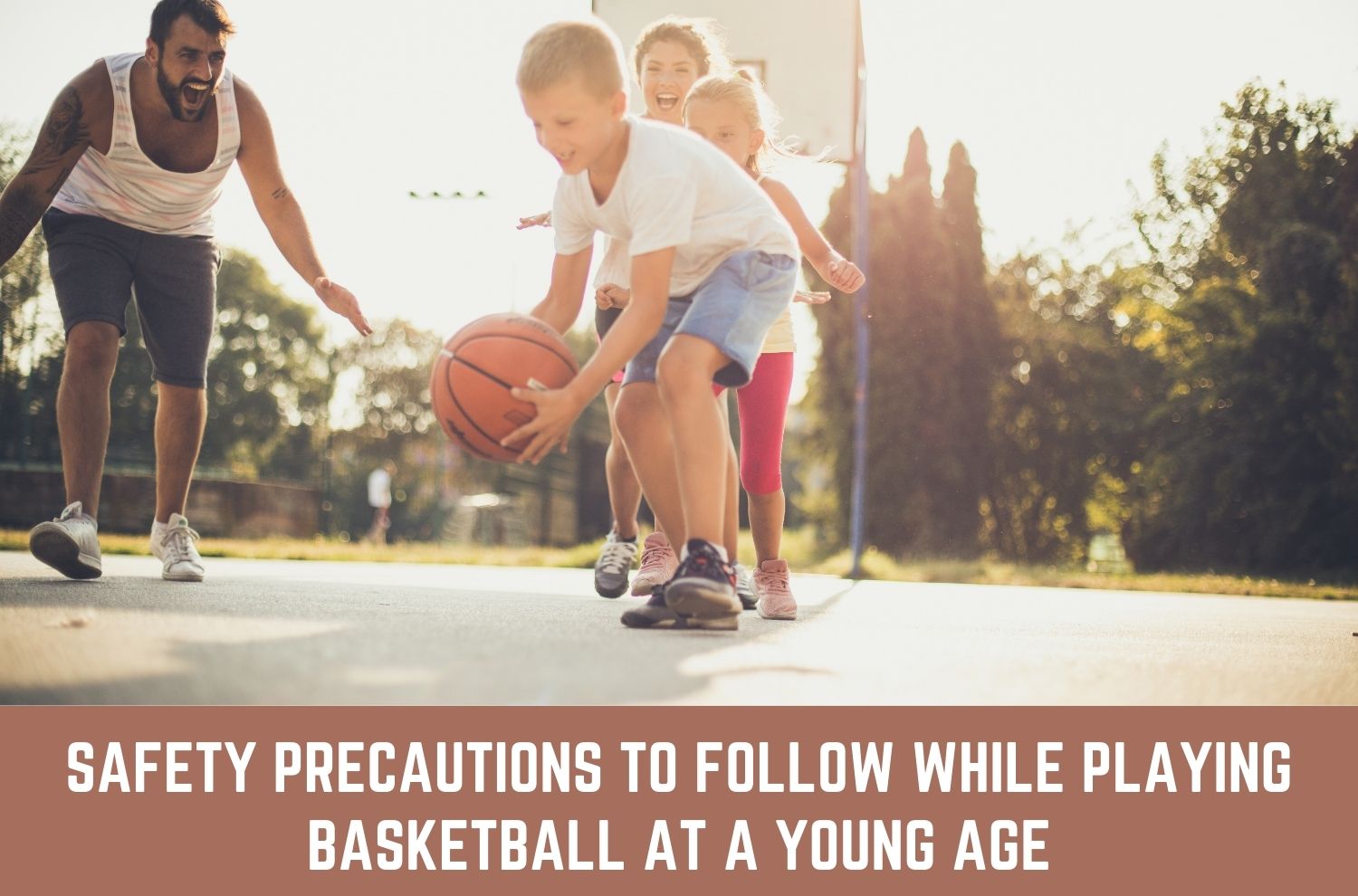 Basketball is a game that everyone can enjoy. The rules of the game are simple and anyone can learn how to play it in no time. In this article, we will look at some of the safety measures that one should follow while playing basketball at young age.
Protection Gear
In order to prevent injuries and improve the quality of your performance, it is best to use the right equipment. This includes using the Best basketball shoes for kids, having good protective gear such as basketball for beginners and using proper techniques during play. All these will help you to stay safe while playing basketball.
Basketball is a very fast-paced game where you have to be very quick on your feet. This makes it very dangerous for the players to get injured or hurt during play. In order to prevent such injuries from happening make sure to tie your shoe laces tightly.
This will help to prevent the possibility of your ankles getting twisted and sprained. For protection from the sun, you should wear goggles during play. This will help you to protect your eyes from being exposed to harmful rays of the sun.
Proper Rest
If you are a young player, then it is best to get at least 8 hours of sleep every night. Basketball is a very physical sport where you will be playing against other players. This means that you will be putting in a lot of effort. Make sure you are well rested so you don't end up harming your body or mental wellbeing.
Warming-up Sessions
Before stepping on the court, it is best to warm-up for about 10-15 minutes. This will help to reduce the chances of injuries and pain. It will also make sure you are not too tired to perform at your best.
Safety Measures For Parents Who Start Basketball at a young age
Basketball is a great sport for children. However, like all sports, it's important to know the rules and follow them. In this post I will cover the safety measures that you should take when playing basketball with your kids.
Teach Your Children Proper Basketball Form This is the most important rule of all. If you do not teach your kids proper form, they could get injured. Teaching your child to properly execute a dunk, layup, jump shot or dribble will help them avoid injury.
It's a good idea to teach your kids to wear safety equipment while playing basketball. A basketball can be very dangerous if not used correctly. You should always make sure that your child wears a mouth guard when playing basketball.
Lastly, it's important to make sure that your kids are properly hydrated before playing basketball. You should teach them to drink enough water throughout the day. If they are not hydrated enough, they will get dizzy and could have a hard time playing the game.
Conclusion
Basketball is a game for all ages. And because it's so accessible, it's a great vehicle for teaching kids things they didn't learn in school. For example, kids learn how to share, work together, shoot a free throw, pass the ball, dribble, etc. So, now you know why kids should start basketball at a young age so have your younger ones started now!