Basketball is an incredible game, and its complexity is unparalleled in the world of competitive sport. It's addition to the list of summer Olympics sports, while NBA season usually starting in Winter, has left many fans wondering:
Is basketball a winter sport?
Basketball is still widely associated with the winter season and commonly considered a winter sport. Though several basketball leagues are played during the summer season, and now, as a sport, basketball is played year-round. However, James Naismith invented it to be played indoors during winter. 
Why Basketball Was Invented As Winter Sport
James Naismith was tasked to come up with a new sport that can be played indoors during winter. He (James) was a college teacher whose students could not play football and baseball in the winter because it was simply too cold outside.
Seeing this, he decided to create a new game that would provide plenty of exercise like football and could be played indoors by a large number of players at once.
He took the inspiration from a rock tossing game he played as a kid, only this time, players will throw the ball in the air at the target instead.
2 baskets were nailed 10 feet above the floor, and the game was divided into two halves. Naismith wrote 13 rules for the game and called it Basketball.
Why Basketball Is Not A Part Of Winter Sports In Olympics
Though basketball was invented as a winter sport, it's still not included in the Winter Olympics! In fact, it's part of the Summer Games at the Olympics!
So, why isn't basketball part of winter sports again?
Because basketball is not played on ice! And as per the Olympic charter, only sports contested on snow or ice are part of the Winter Olympics Games.
Weird, huh?
Basketball has been a part of the Summer Olympics since 1936, but still, many call for what they consider to be the best winter sport included, where it belongs, in the Winter Olympics.
Is college basketball a winter or spring sport?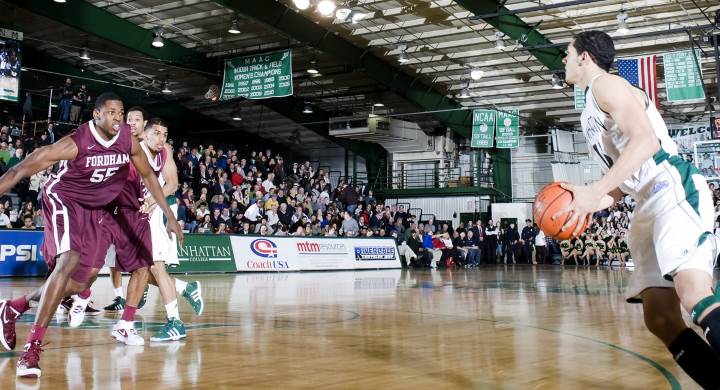 In 1905 basketball was officially recognized as a winter sport by colleges all around the US. And still to this day, it's still part of winter sports.
In fact, with 2,197 teams from NCAA colleges and universities participating, basketball is the most popular college sport in the US!
Its popularity has only increased with the passage of time. And while outside of college, professional football is still ahead of basketball. Gallop reports that Football's popularity had declined from 67% in 2012 to 57% in 2017. At the same time, professional basketball has risen by 3%.
Can I practice basketball in the winter?
Yes, however, If you're practicing outside, then winter takes its toll on players! Winter clothing isn't meant for basketball moves; they restrict your movement. Plus, the wind and snow can make it very difficult to practice shooting and dribbling even if you're wearing the best basketball shoes in 2021.
I'd always recommend you go find a gym if you want to practice basketball during winter. However, if you can't find one and don't have access to an indoor court, it's best to practice ball handling indoors.
Do drills that can be done inside your home. Here are some of the best ones that can help you improve your game.
It's more fun to watch a game when it's cold outside and you can stay at home and not feel the cold at all but still, if there is nothing that can stop you from practicing, then continue reading as I share tips on how to play basketball outside.
How to play basketball outside during winter?
Don't forget to warm up. You'll have to turn up the heat!
While it might be hard and not very enjoyable if it's too cold outside, you can still play if you've got yourself covered with proper gear.
Now, It will be difficult to shoot the ball with the typical winter clothes on! So it's best to ditch the coat for a hoodie.
I have to admit that I have gained that familiar inner-cold so many of us feel during the winter months. (Yes, I know, you should be out there playing golf or whatever the hell you do during the winter, but I like basketball).
Do you know what I do? I wear a freaking baselayer!
I can't recommend wearing an Adidas AlphaSkin baselayer enough. It will help keep you warm and regulate your body temperature.
And can you even play basketball with gloves?
For gloves, I'd suggest you go with a pair of rugby mitts instead of the ordinary winter Gloves since the very purpose of mitts is to provide excellent grip. However, if you're looking to improve your basketball skills then I'd suggest wearing basketball gloves.
Remember, while it's great to get out and play again, do not forget to be safe!