I have always enjoyed playing basketball, and it has always been my passion. This is the reason why I have stocked up on many branded basketball shoes. I recently bought a membership for a club and started observing badminton. To my surprise, I loved the game and wanted to try it out as well. I wanted to use my basketball shoes to play the new sport in which I was interested.
So, I started wondering: can we use Basketball shoes for badminton?
You can wear your favorite basketball shoes to a badminton match if that's what gets you geared up. Basketball shoes tend to have features such as the rubber sole with extra cushioning, anti-slip sole, perforated leather, and synthetic fabric which will help you perform well in badminton matches.
Let's have a look at each one in detail to decide which kind of basketball shoes will prove to be suitable for use while playing badminton as well.
The synthetic fabric used for manufacturing:
No matter which type of shoes you are deciding to wear, it's essential to know what it's made of. Preferably, athletes should choose the shoes that are made of 100% synthetic fiber.
Synthetic fiber allows ventilation and enables the skin of your feet to breathe.
Breathable fabric doesn't let the sweat accumulate on your skin, which might cause skin diseases such as eczema, ringworm, etc. Also, your shoes may be made up of some polyester fibers that you may be allergic to.
If you want to wear a basketball shoe to a badminton match, make sure it is made up of 100% synthetic and breathable fibers.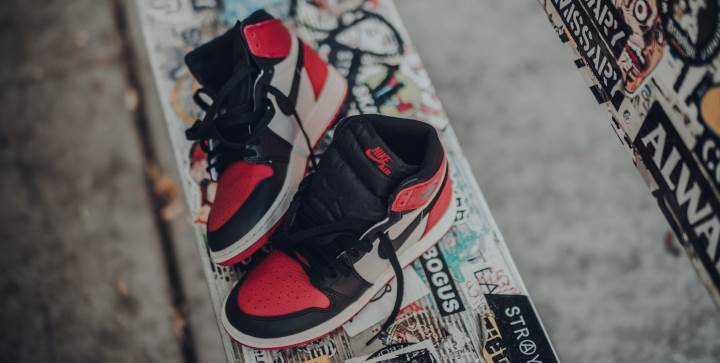 Perforated leather
Perforated leather is a kind of leather that has a small matrix of holes on its surface. The sole purpose of these holes is to create ventilation. If your basketball shoes are made up of perforated leather, it will be easier for you to wear them for a long match.
If your shoes have perforated leather, you will perform well in any sports that you are playing, whether its basketball or badminton. The perforated shoes also look great and grab consumer's attention quickly.
Therefore, if your basketball shoes are perforated, you can soon wear them to a badminton match.
Rubber sole
The sole of a shoe is a significant feature in deciding whether to buy it or not. A right sports shoe should have a rubber sole that provides cushioning against the ground.
Shoes with a good rubber sole will enable you to stay active on the field for a longer time. Also, a thick rubber sole provides elevation, making it easier for an athlete to jump.
However, the rubber sole should be lightweight so that the sportsman "s feet don't get tired quickly. If you have basketball shoes with a lightweight rubber sole, you can choose to wear them to a badminton match.
Built
The overall built of the shoes is also very important if you are deciding whether they fit to be worn to a sports field. If the shoes have a heavy made, you will get tired quickly and may not perform well on the field.
However, shoes with a light produced will feel good your feet and let you enjoy your game and perform great. Hence, always look for shoes with a lighter built to perform well in any sport you choose to play.
Anti-slip sole:
Some shoes have a rubber sole that tends to be slippery and may cause the player to slip while running. Most brands make sure that sports shoes have anti-slip sole to prevent any accidents from happening for the players.
Moreover, anti-slip technology also provides a good grip for the player while playing. Shoes with a good grip will help you perform better on the field by making running more comfortable.
Conclusion
In the end, I want to conclude by confidently stating that you can wear your basketball shoes to a badminton match. However, make sure you have the right basketball shoes, to begin with.
An ideal basketball shoe will is made up of 100% synthetic fiber. A breathable fabric will be used in its manufacturing.
Also, it will have a lightweight rubber sole with anti-slip technology. Lastly, it will have lightly built and will feel light on your feet as well.
A basketball shoe with all the features mentioned above will be ideal for all sorts of sports activities.